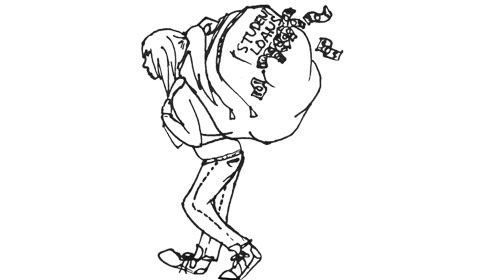 As a result of a new student-loan policy signed into law by President Barack Obama on Aug. 9, a purported 11 million students who have taken out Federal Stafford Loans to help pay for college tuition will see their interest rates drop.
The policy was instituted in order to bring the interest rates, which had skyrocketed after a 2007 interest-rate-reduction bill expired in July, down from 6.8% to 3.86%. This rate will remain fixed until the 2015 school year, after which it will be allowed to fluctuate with the economy, but not allowed to surpass 8.25% for undergraduate loans and 9.5% for graduate loans.
Genevieve '14 said that it is best to keep student loan interest rates low so that students are not thwarted from furthering their education in graduate school at the expense of getting a job right out of college.
"Well, I mean I think it is definitely important to keep interest rates down for students because it's not fair to saddle people with such large debts just because they want to receive an education…not everyone is fortunate enough to have parents that are able to pay their way or are fortunate enough to get a scholarship," she said.
This bill met nearly universal approval in the House of Representatives and was put through with a vote of 392 to 31; however, the Senate, particularly the Democrats, were divided over whether or not to pass the bill.
The new interest rates are half of what they were in July, but lawmakers and specialists alike fear that rates are going to start rising in 2015 as the economy improves, for their current values are based on a Treasury yield—interest on the government's loans and investments—that fluctuates with the market. So although students, according to Obama, will save up to $1,500 this year on their student loans because of this reduction in interest rates, many people are concerned about the long-term effects of such a policy.
"As soon as the interest rates begin to go back up, this deal ends up worse for students and their parents than if they did nothing," Jessica Thompson, senior policy analyst for The Institute for College Access and Success, said to USA Today.
Congress initially tied the Stafford-loan interest rate to Treasury yields in order to take the power of dictating interest rate size out of the hands of government officials and instead have it based upon an impartial economic marker. The hope is that this will prevent taxpayers from paying sums of money to cover student loans whose interest rates are established solely on the whims of politicians.
The second major reason for opposition to this bill is that the federal government is poised to absorb as much as $174 billion in revenue over the next 10 years from this new policy alone. Several national senators, including Senator Elizabeth Warren from Massachusetts, believe that this is immoral.
"This is obscene," Warren said, according to a New York Times article by Jeremy W. Peters. "Students should not be used to generate profits for the government."
Both this profit margin and the inevitable increase in interest rates prompted members of the Senate to limit the maximum growth of interest rates on loans taken out by undergraduates after July 1 to 8.25%.
Associate Director of College Counseling Monica DePriest said that any increase in interest rates caused by a growing economy might burden college graduates with more debt than their low-wage, first-job-out-of-college earnings can pay off.
She went on to explain how the same principles still apply to managing loan debt, just as they did before.