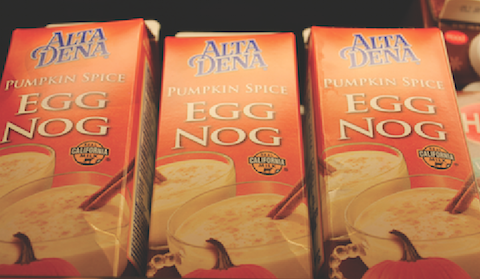 You wake up on Christmas morning with a revival of holiday spirit. As you proceed into the kitchen in your snowflake flannel pajamas, you crave something that tastes like the holidays, so you pour yourself a glass of eggnog. Does this sound familiar?
Eggnog has been one of the most popular holiday drinks since the 1600s. It originated from people who added an egg mixture to their "noggin," which is a small, wooden, carved cup.  Many people can't wait until the holiday season so they can taste the smooth creaminess of eggnog. However, others, such as myself, are slightly disturbed by the idea of drinking a mixture of raw egg and cream.
Have you ever wondered what exactly eggnog consists of, but chose not to think about it?  Well sorry to burst anyone's bubble, but eggnog is made by beating an egg yolk and slowly adding cream, nutmeg and cinnamon, and then adding the egg whites. If you make your own eggnog, you typically need at least one cup of whole milk in addition to an entire pint of heavy cream. Is all of the cream really worth it? In my opinion, all of that cream mixed with eggs just sounds awful. However if you are a diehard eggnog fan, don't let me influence you (but I might advise you to try low-fat eggnog).
Regardless of the health disadvantages, eggnog has remained one of the most popular drinks for hundreds of years. If you are one of the many who enjoy eggnog around the holidays, don't let me, or any other people, change your mind. If you drink it sparingly, you can also make eggnog at home. Eggnog has even become a seasonal drink at coffee shops. Starbucks has an eggnog latte. However if you are an eggnog fanatic and decide to go for the eggnog latte, you should limit how many of these lattes you get, since it is one of the most fattening drinks on the Starbucks menu.