S'mores and roasted hot dogs have traditionally served as the typical meals prepared over a campfire. However, a tastier, healthier and more satisfying option is available to hungry campers in search of something new. Not many people have heard of tinfoil dinners, but they make excellent, filling meals that are easily cooked over a campfire. You must have tinfoil and butter to make tinfoil dinners, but what you toss onto your tinfoil remains entirely up to you!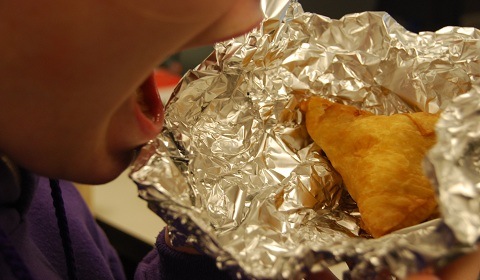 First you will need to butter a piece of tinfoil, which can be difficult if you attempt to do so in a windstorm on a splintery wooden table while it is drizzling; however, if you are not in an unfortunate camping situation (as I was recently), this simple task should not present a problem. Then it's time to pick your ingredients! Cutting up hamburger meat and adding it to your dinner gives substance and flavor to the meal, and thinly sliced potatoes, bell peppers, and carrots are excellent vegetables to include, though you are certainly not limited to just these foods. Next, place the chopped ingredients of your dinner on the tinfoil, wrap the tinfoil up into a bundle and throw it directly onto the hot coals for about 10 minutes. The tinfoil will burn black, but don't worry, the flavor's all locked inside! (And so is the heat, so be careful when you remove it from the flames.)
After retrieving your steaming tinfoil from the fire pit, enhance the flavor by adding some salt, pepper, or cheese, which will melt immediately on the heated vegetables. If you're hungry from a long day of hiking or canoeing, tinfoil dinners can really hit the spot!