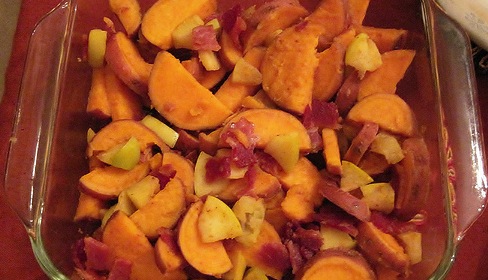 It's that time of year again–autumn foliage! The National Football League! The Macy's Day Parade! Thanksgiving!
The month of November presents a myriad of time-honored traditions and flavorsome foods. But what I most look forward to this holiday season is my favorite Thanksgiving Day dish: sweet potatoes.
Boasting rich nutrition such as fiber and vitamins A and C,sweet potatoes come in two main varieties in the United States. The first has a golden skin with creamy white flesh and a crumbly texture. The second has copper skin and orange flesh that is sweet and soft. No matter the type or texture, sweet potatoes are always dressed in brilliant reds and yellows — not only delicious but also pleasing to the eye!
Here are a couple of ways to incorporate sweet potatoes into your meal:

1) Serve sweet potatoes with goat cheese and sage. For those who seek a low-maintenance side dish, this is your best bet. To make this savory plate, one only needs the following ingredients:
– two large sweet potatoes, peeled and cut
– two tablespoons of butter
– two tablespoons of chopped fresh sage
– 1/3 of a cup of goat cheese
– coarse salt
2) Serve sweet potatoes in a meringue-topped casserole. For those who are more
adventurous in the kitchen, this dish is quite attractive. Don't forget to whisk the sweet potatoes in with the whole eggs, brown sugar and cinnamon! Sprinkle crushed pineapple and toasted pecans on your finished product to get an even more flavorful kick.
So… What will be on your plate this Thanksgiving?