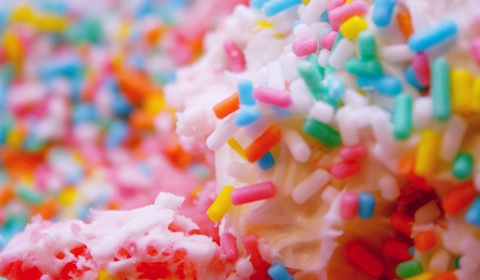 Now, you can decorate your cake and eat it too.
Founded by celebrity baker Duff Goldman,Duff's Cakemix, a 2,400 square-foot space on Melrose Avenue, is a budding, decorate-your-own cake shop; think Color Me Mine or Build-a-Bear, but ditch the paintbrush and the stuffing machine for pastry bags of icing. At Duff's Cakemix, the inspired may choose from a spectrum of cake flavors—ranging from red velvet to marbled chocolate—frosting, filling—such as cream cheese or vanilla flavoring—sprinkles, and even edible paint to construct an original (and tasty!) cake.
Last month, after hearing all the hype surrounding its opening, I paid a visit to Cakemix. As a girl who irrationally prides herself on her formidable cake-making skills, always armed with a defrosted Sara Lee when invited over for dinner, I took the trip reluctant to make my first foray into fondant.
As I crossed the threshold, I became intoxicated by the overwhelming scent of sugar. 50 seats of would-be decorators surrounded me. A chalkboard menu listed the decorating options: "Choose a 6-inch ($36) or 9-inch ($52) round cake to decorate!"
With some assistance, I opted for the six-inch cake. Armed with vanilla buttercream, I embarked on my cake-decorating journey. Prior to this visit, I'd never decorated a cake other than to stick a few candles in, so I found myself pleasantly surprised that the Cakemix process wasn't challenging. Decorating didn't feel like work; instead, it presented an opportunity to indulge guiltlessly in my imagination and creativity. For thirty minutes, I molded and sculpted my three-layered creation. I kneaded in a few drops of deep pink food coloring. The result was a rounded cake, adorned on its sides with four, lopsided shooting-stars and vertical white and pink checkered lines on top.
An hour had passed by the time I had placed the final decorations on the cake and decided to call it quits. How satisfied I felt seeing the cake come to fruition! What was once just a seed of an idea had turned into an equally delicious and vibrant reality! Although I am still not a big fan of baking, I highly recommend Cakemix as a recreational destination for professional and amateur chefs alike.