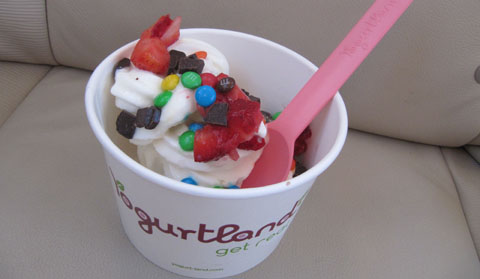 Frozen yogurt was invented in the 1980s but dipped in popularity in the late nineties and early aughts; however, since 2009 it has made a comeback, with fro-yo shops featuring its tart taste and bright colors popping up all over the nation. Staying fit is always in style, and in moderation frozen yogurt is considered a healthy choice. Since frozen yogurt is light in calories compared to ice cream, it has skyrocketed in popularity, becoming Americans' favorite go-to snack.
The two most popular frozen yogurt shops I know of are Yogurtland and Pinkberry. Although Yogurtland offers more flavors and toppings, you can't go wrong with the original Pinkberry flavor. I like Yogurtland because you get to serve yourself and mix the different flavors together, whereas at Pinkberry they serve the frozen yogurt to you. I also like the variety at Yogurtland better than the few flavors that Pinkberry offers. One great thing that both of these shops have in common is that they have seasonal flavors, so every once in awhile when you walk in there is a new and interesting flavor that you have never tried before. At Pinkberry during the winter season they usually have a pomegranate flavor and at Yogurtland they have an oatmeal cookie flavor.
Both of theses yogurt stands are very successful because they are nationwide franchises with millions of customers in their shops every week. Frozen yogurt serves as a refreshing snack anytime!