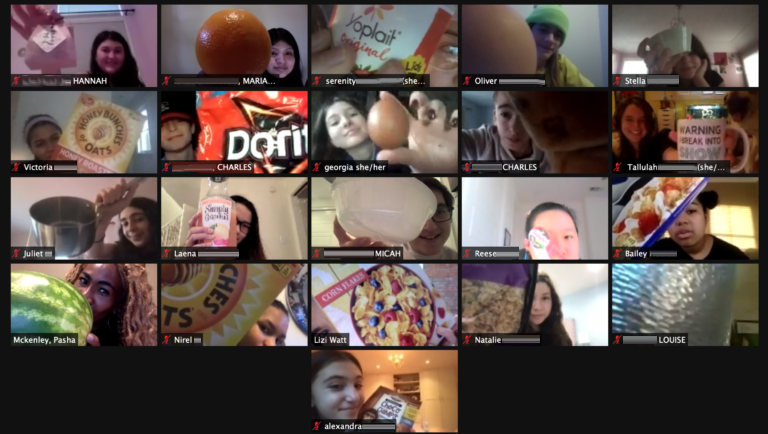 The Marlborough theatre department aims to bring unity within the Los Angeles community through their collaboration project with LACES, a public middle and high school in Los Angeles. The project is a multimedia devised theatre piece, including performances from Marlborough and LACES middle school students and stories from all grades at both schools.
The collaboration arose from Performing Arts Instructor Lizi Watt's connection to LACES Theatre Director Pasha McKinley, whom she knew well and wanted to work with. According to Watt, growing collaboration in Marlborough's theatre department has also been a long-term goal.
"Since I started working at Marlborough, I've had this interest and this curiosity in getting out in the community more… and right now while we're already in the digital realm, it might make it easier to collaborate," Watt said.
The focus of the project is to connect both communities by choosing a topic that nearly everyone can relate to: food. The idea was inspired by a Marlborough family at Watt's parent night of classes, who entered the Zoom call eating dinner at their table during the session.
"We have this strange opportunity to get a window into each other's worlds," Watt said. "In particular, when I was looking at her dinner table, I thought about food and how food is a place where we often come together."
Both Watt and fellow Performing Arts Instructor Kristi Schultz described how in a society in which we are often divided, finding this common ground of food transcends boundaries while also uniquely varying from person to person.
"[The project] is an immersive and creative approach to this everyday topic, with the goal of bringing the community together over this common thing we all have to do every day," Schultz said.
Schultz has also been sending out weekly prompts to students and faculty about their food experiences and stories. Some of these prompts have included topics such as "Who are your food heroes?" Or "How difficult or easy is it for you to get the kind of food you need and/or want?"
As this project is still in progress, middle schoolers interested in being a performer or being part of the creative team behind devising the stories, and students from any grade that has a story to tell or would like to interview someone about their connection to food, reach out to Lizi Watt at [email protected] or Kristi Schultz at [email protected].