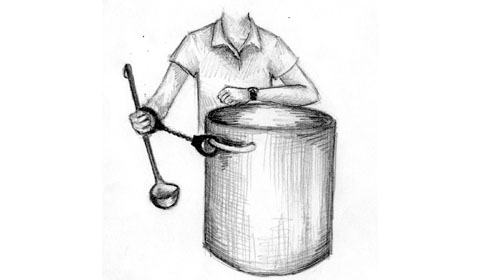 Although Marlborough does not require students to perform a certain number of hours of community service, as most other independent schools in Los Angeles do, at least 75% of students find time in their hectic schedules to give back to the community and support those less fortunate than themselves. However, while some members of the community think students should be allowed to perform community service on a voluntary basis, others feel that every single girl should be required to take part in community service so we can attain 100% student participation.
Co-President of the Community Service Outreach League Club Eliza '13 acknowledged that some girls go through six years at Marlborough without doing any community service, but she said that busy schedules prevent some girls from participating and justify the School's policy.
Students need to complete a required number of hours of community service at almost all other independent schools in Los Angeles, although Brentwood School eliminated their policy as of this school year. According to Community Outreach Coordinator Nadia Hopper, administrators in many independent schools in Los Angeles where students must fulfill a mandatory amount of community service hours struggle to keep students enthusiastic about community service. Hopper also added that many of these schools are surprised at Marlborough students' passion for community service and high participation, since we have no policy.
However, English instructor and Philosophy Club advisor Chris Thompson said he thinks the School should make a certain number of community service hours mandatory.
"By actively participating in community service, our students would gain more of a sense that they can do something to help others' lives, which is easy to miss in the privileged lives that so many of us live," Thompson said. "It's not just about enforcing moral behavior, it's about helping students see… parts of the world where maybe someday they can make a difference."
Eliza and Hopper both said, however, that Marlborough's policy prevents a negative outlook towards performing community service.
"I think it is better to not have the requirement, because it makes people want to do [service] more instead of resent it," Eliza added.
Hopper agreed that it would be unnecessary to establish a community service policy, considering the high level of student involvement.
"By the time our girls graduate, almost all of them have made at least one peanut butter sandwich at some point," she said, referring to the sandwiches that are frequently made for the homeless outside Café M during lunch.
Marlborough has never had a community service requirement, but student participation dates back to almost the founding of the School. According to Alumna Judith Campbell '65, who is working on a book about Marlborough's Heads of School, Mary Caswell believed that her graduates would fill an important role in the community after graduation, and subsequent Heads of School have continued to allow students the freedom and responsibility to take part in community service as they please.
The School's Community Service Office encourages participation by offering opportunities such as tutoring students at Third Street Elementary School and eighth graders from low-income families studying for the High School Placement Test (HSPT). 40 girls signed up to be a part of the HSPT program this year, a much higher turnout than expected. Additionally, Violets In The Community is a group of students who have started their own community service-based programs, including Isabel '14, who last year started a program to write letters to refugees.
Hopper said she believes the all-girls environment contributes to the high level of participation. "Girls gravitate towards community service more than guys," Hopper explained. "It is just our nature."