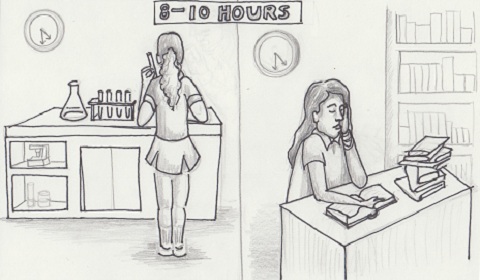 At the start of the 2012-2013 school year, Victor Ortiz, formerly the Associate Director of Academic Technology, became the new full-time Head of the Honors Research in Humanities and Social Sciences Program, which has grown significantly in participation since its founding in the 2005-2006 school year, with student enrollment increasing from 8 to 14 students from last year to this year.
However, as the program grows and Ortiz seeks feedback on how best to serve the needs of his students, some girls are raising questions about inconsistencies in the hours required, the guidance received and the commitment expected for students in the Honors Research in Humanities and Social Sciences Program and in the Leonetti/O'Connell Family Honors Research in Science Program, specifically because Honors Research in Science typically involves research done in a lab and Honors Research in Humanities and Social Sciences involves more independent study.
Girls in both programs must complete eight to ten hours of research per week, a requirement determined by the School's Educational Council. Alumna Elyse Samuels '12, who participated in the Social Sciences program, said that she feels this time requirement ends up being more applicable to Science.
"It's definitely a lot easier to not really complete the whole eight to ten hours in Social Sciences because Science girls have to physically be somewhere," she said. Ellie '13, a senior in her first year of the program, said that she would like to see the minimum hours for the week lowered, because meeting those standards can be very stressful. Other Social Sciences and Humanities students say it is difficult to define what constitutes eight to ten hours of reading.
"I'll read for ten hours in a week and I'll only find three to four useful pieces of evidence," one student in the Humanities program said. "And Dr. Ortiz will say, 'This doesn't look like eight to ten hours of research.' I think that a lot of times you wind up getting penalized for the research process."
Girls beginning their first year in both programs spend the summer completing 100 hours of research. Mentors, who are typically professors from UCLA or USC, give suggestions for reading as well as provide feedback that the girls are expected to incorporate into quarterly papers. During that time, Humanities and Social Sciences students read on their own and work with a mentor to narrow down their topic to find a research question by the start of the school year, while students in Science work with their mentors in labs that have a fairly narrow range of research options.
Some girls in the Humanities and Social Sciences said they found developing a research question on their own to be stressful. Isabel '14 said that she feels that the Humanities and Social Sciences program asks students to be more self-directed and self-disciplined. "I feel like I could have received more guidance in that process, but I'm glad that it kind of came to me through my own struggles of research," Isabel said.
Relationships with mentors whom a student does not see even on a semi-regular basis in a lab can be difficult, according to Ellie. "I'm not that close to my mentor," she said. One senior participating in the program for her second year agreed. "Last year my mentor wasn't as involved; we didn't get along very well," she said. "It felt like I was pulling teeth to get him to help me."
Samuels said that she thinks the program should further stress to the girls that fostering a relationship with their mentor is up to them. "My mentor was great, but it was my fault that we didn't have a stronger relationship," she said.
Ortiz has said that he is always available to help girls who are having trouble, and that he can find someone to aid a girl if she needs extra help that the mentor can't provide.
"So much of the program is [about] communication," he said. "[The girls] need to take responsibility for their own learning and reach out to [their Honors Research advisor and mentor]."
Several girls said that, overall, they are very happy with their decision to take Honors Research in Humanities and Social Sciences. "I think it's the coolest program that Marlborough has," Ellie said. "I would encourage people to do it because it's a really valuable experience."