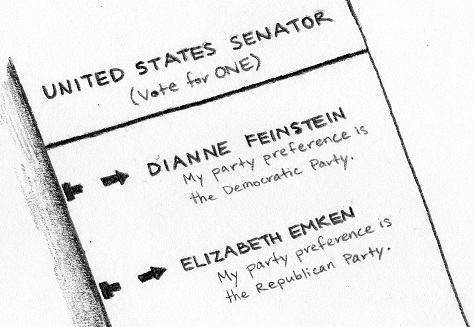 By: Isabel '14
Imagine holding a ballot listing the names of California's prospective senators. Beneath both names you see the same sentence: "My party preference is the Democratic Party." Thanks to Proposition 14, passed in 2010, ballots where both candidates belong to the same political party will soon become a reality, eliminating, at least in certain elections, the bipartisan competition that is an important part of American politics.
Prop. 14 calls for an open primary in certain California elections, including those of governor, members of the House of Representatives and US senators. Previously the candidates who won the most votes within the Republican, Democratic and Green party primaries, held a number of months before the general election, would win a spot on the ballot.
Only members of a given party could vote in that party's primary. However, in Prop. 14's "top two primary system" the two candidates with the greatest number of votes, regardless of party affiliation, would advance to the general electio
n. In a state dominated by one party, such as California, it's easy to see how the two most popular contenders in many elections could soon belong to the Democratic Party.
The goal of Prop. 14 was to improve California politics by reducing partisan sentiment and situations in which people make decisions based on party rather than on the issues. Candidates are not required to put their party affiliation on the ballot, but because voters often make decisions based on party, candidates will most likely still choose to include that information.
Voters can choose any candidate, regardless of their own political party, and candidates win a spot on the general election ballot based on the overall number of votes they received, not the number of votes received compared to other members of their party.
But in attempting to reduce partisan conflict, Prop. 14 potentially eliminates a vital aspect of American politics.
Just as a free market economy gives consumers options, bipartisan competition gives voters options. In a free market economy, the consumer's ability to choose between the products of various companies motivates these companies to create better goods for lower prices, a competition that raises quality while lowering cost.
Similarly the competition between parties forces each political faction to consider the desires and needs of Americans in hopes of winning their vote. In an election between two members of the same party, voters will be forced to abandon their choice between ideologies, having no option but to accept views that all members of certain political group support.
Democrat Dianne Feinstein's victory over Republican Elizabeth Emkren in the Nov. 6 senatorial elections was hardly surprising. Feinstein had superior fundraising and greater experience, and Emkren had never held an elected office. But regardless of the result, it is the fact that a contest between members of two different parties existed that is important. Prop. 14's new system of primaries has the potential to eliminate bipartisan competition, depriving voters of the choice between two ideologies and eliminating the need for parties to tailor their policies to voters' needs.