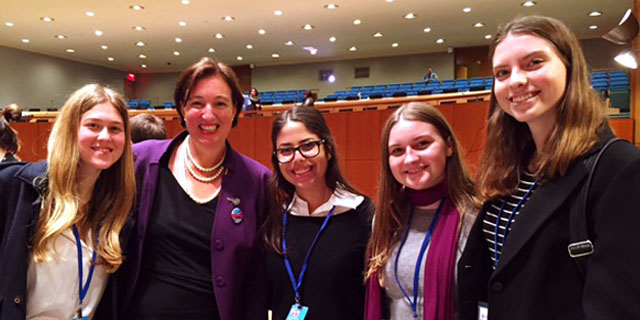 Courtesy of Cathy Atwell
Girls Go Global members traveled to the United Nations in March.
Four Marlborough girls participated in the 60th annual session of the UN Commission on the Status of Women (CSW) to brainstorm sustainable goals and raise awareness of women's rights and situations around the world. Beginning Friday, Mar. 11, this year's co-presidents of Girls Go Global, Annie Gersh '16 and Christina Boghosian '16, along with club members Gracie Atlee '17 and Sarah Ryan '17 and history and social sciences instructor Catherine Atwell, listened to a variety of speakers and took part in activities promoting gender equality and the empowerment of women at the weeklong event.
Marlborough offers the annual opportunity for students ages 16 and over to apply to be selected as a CSW teen delegate by Girls Learn International, an organization that promotes girls' education worldwide. This year, the CSW focused on reviewing a previous theme, gender-based violence, and how this issue has changed over the last three years, as well as on a new theme of Sustainable Development Goals (SDGs) created by governments to improve gender equality worldwide. On Sunday night, the four students got the chance to attend a live taping of American television program "Last Week Tonight with John Oliver."
The girls attended and moderated  parallel events, activities organized outside the formal program of the Commission by various NGOs. These events included discussions about issues of gender equality and women's rights.
Atlee moderated a parallel event about gender-based violence, with the responsibility of introducing panelists, including girls affected by the issue, and asking them questions.
"I felt inspired by the stories of other girls who were being active in their own communities, and I felt lucky to be able to participate in the sharing of their stories," Atlee said. "I really appreciated the opportunity to participate and learn a little bit more about gender-based violence myself."
The panels, featuring international government leaders, representatives of non-profit organizations and women from all over the world, discussed a wide variety of issues regarding women, from abortion laws in different countries to promotion of new methods of sex education. Ryan described the overall experience as an opportunity to reflect on these issues and how women experience them differently than girls do.
"Over the course of my week at the UN, I saw how far women and girls have come, but I also saw how far women and girls have to go. I mean, there is still female genital mutilation happening in many countries. It's 2016! That's crazy," Ryan said. "Attending the conference really invigorated my drive to continue to advocate and find solutions to the problems that still persist for women and girls' rights in whatever context I can."
Gersh was inspired by the experience and hopes to continue her activism on behalf of women's issues.
"The entire trip reminded me of the ways in which empowering women and girls can affect all other issues," Gersh said. "I also loved meeting other girl activists from around the world. It was energizing to learn about their projects and form friendships with like-minded girls."