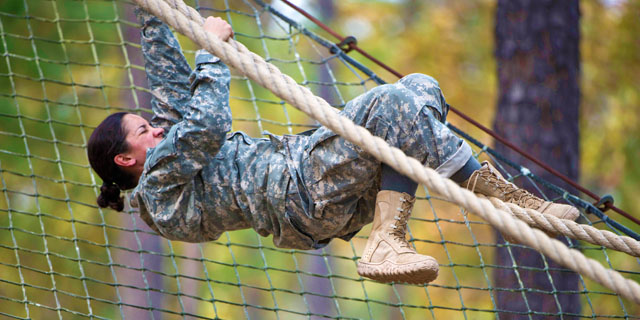 Defense Secretary Ash Carter announced on Dec. 3 that the military will open all combat roles to women, and each branch has submitted a proposal for integration that are currently pending approval by the Pentagon. According to Pentagon press secretary Peter Cook, the integration process will begin no later than April 1, 2015.
Carter's decision rejected the Marine Corps' request in September for a partial exemption from the integration of women in areas such as infantry, machine gunner and fire support reconnaissance. The Corps' request came on the heels of the publication of a study last October that found that all-male units performed better and were less likely to be injured than mixed-gender units. In the press release, Carter acknowledged that he was denying the Marine Corps' request.
"I believe that we could, in the implementation process, address the issues that were raised [by the Marine Corps study]," Carter said.
According to Carter, women who want to go into combat will need to meet gender-neutral standards in assessments of physical and mental ability.
According to Defense Times, Carter's decision will open up around 220,000 jobs, ten percent of the force, to women.
The majority of newly opened positions are in the Army and Marine Corps.
Critics of Carter's decision disputed his strategy. On Jan. 8 Marine Corps Gen. John Kelly made a statement addressing concerns that these gender-neutral standards wouldn't last because there will be pressure to promote females and let them into more combat positions, even if they aren't on par with their male counterparts.
According to a memo the Navy Times received from Navy Special Warfare (NSW), there are widespread concerns within NSW leadership that women would hinder combat readiness.
According to Army Sgt. Shane Duhane who works as a Behavioral Health Non Commissioned Officer in Fort Bliss, Texas, this sentiment is shared by all branches.
"The mood of discontent in the military with this decision is already tangible," Duhane said in an opinion piece for Army Times.
Despite the recent announcement and the April 1 deadline, the process will likely require some time to complete.
The integration process will likely follow the strategy of previous efforts, integrating officers before enlisted soldiers. Ret. Naval Surface Warfare Officer Boyden Rohner '95, who was among the first female Surface Warfare officers aboard the USS Arthur W. Radford, commented on the benefits to this method of integration.
"I thought that was a good plan to have senior women in place because when the junior women come in they have role models or some leadership figures that they can aspire to. It's a little jarring to go in and you have issues and you're very junior and you don't have anyone to talk to who are sympathetic [to your situation]," Rohner said.