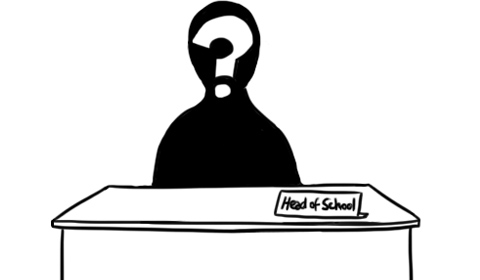 During the weeks of Feb. 9 and Feb. 16, the Head of School Search Committee, in conjunction with Wickenden Associates, welcomed to campus three finalists for the position.
These candidates, who will remain unnamed in this issue of the UltraViolet due to the sensitive nature of their job searches, were marshalled through a packed schedule of meetings, which included interviews with student representatives from each grade.
With the help of Dean of Student Life and Spanish instructor Regina Rosi, students carefully prepared questions for the candidates in advance and later met with each candidate. Nicki '16 explained what preparation for the interviews entailed.
"We met five or six times before the interviews. We would meet and say…what are we hearing from all the students in each grade? What does it seem like everyone wants to know, and what questions can we ask that will give us the best representations of the candidates?" Nicki said.
Nicki explained that each set of student representatives had a theme on which to base their questions. Some of the topics included community, tradition, teacher-student relationships and leadership. Each candidate was also asked how he or she would take advantage of Marlborough's culturally diverse surroundings.
Student representative Clara '18 added, "I thought an important question was asking what they appreciated in the school because I think that's really important and definitely getting their thoughts on the all girls' aspect. They gave some really good and enlightening responses."
Nicki and Clara both said that they were surprised that the candidates asked them questions, too.
"When we got into the interviews, they asked us things like, 'What do you like about Marlborough?' 'What do you think it could improve on?' I hadn't thought about it before so we all had to come up with answers, but I think we did a good job of coming up with good answers!" Schindler said.
10th Grade Level Dean and history instructor Tom Millar said that the search committee will meet for the last time at the end of February. At this meeting, the Search Committee, with the help of feedback from surveys, will make a recommendation to the Board of Trustees. The Board of Trustees will meet to make a decision. According to Millar, there are several different scenarios for the Search Committee's recommendation to the Board.
"There are two decisions that the Search Committee could make. One is where we recommend a person out of the candidates, and the other thing we could say is we think it's better that we push the search back a year and hire an interim person," Millar said.
Nicki said she felt optimistic about the prospects.
"After interviewing all three of them, I think that each one would do an amazing job. I have no doubt in the world. They were all different. But they each bring something to the table that would really help Marlborough and take it into the future in a good way. In any case, I'm really confident coming out of the interviews that [the committee is] going to find the person they are looking for," she said.