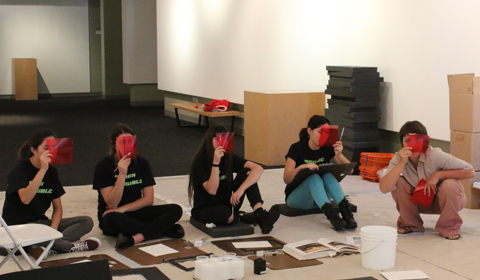 Claire Anna Baker, who was on campus from Nov. 3-21, 2014, was the Artist-in-Residence this Fall. The Artist-in-Residence program creates an opportunity for students to have exposure to professional working artists. On Dec. 3, 2014, Clementine '17 interviewed Baker about her Artist-in-Residency, artwork, and process.
CW: What exactly did you do with the Marlborough students [you worked with during your stay]?
CAB: I shared my process, a compressed version of it, with them, which included several stages. We first constructed an installation of natural and artificial found objects, using light and fabrics to create a space to help us think about our broader landscape… and then we began to draw the installation in several different ways. The first method was using walnut ink and a bamboo pen, which is how I drew for about ten years in the style of Claude Lorrain and other Renaissance artists, [where you use] a hard nib on one side and a sponge on the other to create a light pattern and explore mark-making and tone. And then we began to magnify the tool in the same way that I have done for many years in my practice, where we used a small pocket-knife with the ink…Then we used the larger palette knife, which [was] 8 inches, to create more and more object-like marks, and then we did calligraphic mark-making. We developed space in the paintings on the polyester [scrolls] with color sheets, using large foams, which was also relating back to the small foam on the bamboo pen, which was again a centimeter. We built up to that two foot by two foot piece of foam for the final painting.
CW: That sounds fun! Where did you grow up and what impact did this have on your artwork?
CAB: I grew up in Berkeley and San Francisco, and I grew up in a family of artists of different mediums, which definitely influenced me. My grandfather was a kind of an outsider sculptor. My grandmother was a painter. She liked Jackson Pollack paintings, so she decided to make her own…[My father's] an architect and I would say that I grew up in a house with no right angles. He has his own vision of space. My mother is a poet and runs a literary magazine, so I grew up, every week, going to multiple poetry readings and around a lot of writers. Those two influences, of both of my parents, definitely had a strong influence on me, and I think of myself as a poet of space, which is very much a combination of them.
But I would say that the actual geography of where I'm from…the light in the Bay Area is very beautiful. It's very golden and there's really rich creative roots there.
CW: What has inspired you the most over the course of your life?
CAB: Well, I always go to nature to get inspired. Anywhere where I can be in open space and see the horizon…And making small sketches of nature has always really inspired me and [so has] drawing from observation. I love watching dance. A lot of my friends are dancers. Watching peoples' bodies move through space is very inspiring.
CW: Who is your favorite artist?
CAB: I have a lot of favorite artists, and everyday I have a different one, probably for different reasons. But I always go back to Paul Cezanne in terms of his surface and fractured space and quality of material. He was the first one to make it really about surface, but…there's always, a jewel kind of hiding in his paintings. He's the guy.
CW: Who is your favorite poet?
CAB: Well, I really love to read books on poetry by poets. That's my favorite thing because I am able to translate it into thinking about art. There are poets that I really love, like Louise Gluck and Denise Levertov. And who else is on my shelf? The books on poetry [ that i really love are] like The Life of Poetry by Muriel Rukeyser, [and they are] really wonderful.
CW: What is your creative process when you're creating a new art piece?
CAB: I work in theory so I develop a lot of the pieces at once…My process is very parallel to what I shared with you all. I construct an installation in my studio based on an actual experience of mine, and then I draw it. The only thing different is [that] time is very important to my process even though it looks very immediate. I actually spend about a year, or sometimes longer, developing the theory.
CW: How has your artwork grown over the course of your life/career?
CAB: It really is an evolution. It's always about growth, and so a good artist is always changing. You're finding your voice and your strength that [will forward] your career, and learning to be a great artist has to do with finding a way to make your voice heard and make it visible.
CW: What do you consider your greatest artistic feat?
CAB: My greatest artistic feat? Well, hopefully that's yet to come! It's really just about continuing: persistence is an artist's greatest feat.
CW: If you had to give advice to budding artists, what would you say?
CAB: I would say that if you really love making art, if you feel that you need to do it, that [if] there's no choice but to do it, [then] you should believe in that feeling and do it. Give it to the world, keep doing it, and eventually the support that you need to make the work continue will rise to carry you. If you have an inner drive, then it means real love. And if you have that ultimately you'll be successful… and happy! Learn from other people, but learn to listen to yourself!
CW: What is your favorite medium to work with?
CAB: Definitely ink!
CW: Is there anything you discovered about being an artist that you would want to tell us?
CAB: You have to find your own way in order to be an artist: there's no one way. That's what it's about. It's about the celebration of humanity and of each individual voice and authorship- each individual vision. It goes back to that trusting in who you are and finding peace with who you are. To be an artist you actually have to call upon all your skills, writing, accounting, managing, public speaking, business, and work hard in many ways just like you would have to do in any profession. It is indeed a labor of love!