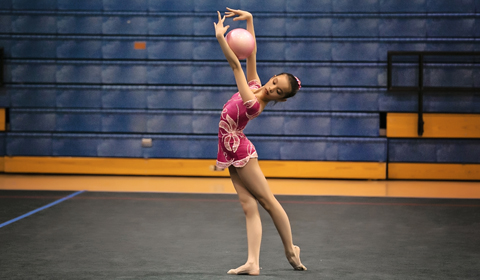 As Isabella '18 steps up to the mat to perform her rhythmic gymnastics routine, she takes a deep breath, focusing and preparing herself for the difficult task ahead of her. Performing her routine well requires her to execute it with grace and precision while making it seem easy. Both Isabella and Yu-Shing '16 have spent a nearly their entire lives practicing and competing in the only sport that combines elements of gymnastics, ballet, dance and apparatus handling–rhythmic gymnastics. Since taking an interest in the demanding sport at age six, both girls have spent long hours stretching, conditioning and practicing their routines. After roughly nine years, the time and energy they have dedicated to the sport is paying off for both Isabella and Yu-Shing, as both now compete on the national level.
Yu-Shing was recently promoted to being a "senior" at her studio, which means that her routines will become significantly more advanced, and the expectations in terms of the quality of the routines will go up. She is currently at Level 9 and has competed in nationals for the past five years,
"I think that Yu-Shing's greatest accomplishment so far is her confidence and the ability to perform under pressure. It is nerve-wrecking to step out on the carpet in front of a panel of judges and spectators, to perform every move, catch every toss of the apparatus while dancing to the music, and be expressive while concentrating hard on the routine" said Yu-Shing's mother, Emm Wang.
Isabella recently reached her longtime goal of reaching Level 10. In rhythmic gymnastics, Level 10 consists of the top 25 gymnasts in her age group in the country. She is currently ranked 17th and cites always setting new goals as a large factor in her successes.
"There hasn't really been one particular highlight. I just set goals and try to reach them. Reaching Level 10 was really exciting though," Isabella said.
Although rhythmic gymnastics is often grouped together with its better known counterpart, artistic gymnastics, that is commonly seen on broadcasts of Olympic competitions, the two sports are very different. Rhythmic gymnastics routines are similar to the floor routines that are performed in artistic gymnastics, but rhythmic gymnasts also incorporate various apparatuses into their routines. Isabella's favorite apparatus to use is the ball, which she rolls and tosses into the air while performing ballet-like sequences beneath it. Yu- Shing likes the clubs, which, she explains, the gymnast tosses into the air while simultaneously performing her dance.
"[The apparatuses] definitely require a lot of coordination and are definitely challenging, but I really like them," Yu- Shing said.
Both girls especially enjoy the dance aspect of rhythmic gymnastics as well and believe that it adds another element of flexibility and coordination that is not seen as much in artistic gymnastics.
Since rhythmic gymnastics is made up of many components that are necessary to master in order to be successful, a huge amount of dedication to the sport is essential. The girls practice at their studios, The Los Angeles School of Gymnastics and California Rhythms, for up to 16 and 21 hours a week, respectively. Typical practices begin with conditioning exercises for both, such as doing sit-ups and v-ups to improve core strength and jumping rope to help with leg strength as well as overall fitness. Yu- Shing then spends an additional 1 ½ hours practicing ballet, while Isabella practices elements of her routines, such as turns and jumps. Both then practice their routines as if they are preparing for an upcoming competition.
"In competitions, having advanced routines is rewarded, but factors like artistry, grace, and expression are also very important," Isabella said.
Despite having done the sport for so long, both girls still enjoy it.
"One of my favorite parts of doing rhythmic gymnastics is that since I've done it for so long I'm really connected to it," Yu- Shing said.
Both girls have made significant achievements over the years and want to continue with the sport in the future.
"I just really love being competitive, seeing my friends, and also the sparkly leotards," Isabella said.