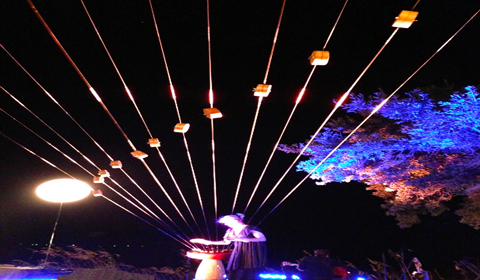 Marlborough dance instructor Holly Rothschild and her company String Theory combine dance and music to create a unique and immersive experience for their audience. Rothschild, along with her husband, Luke Rothschild, and Joseph Harvey, a composer and cellist, have been working together since 1996. They have performed in front of large audiences around the world, including at the 2014 Emmy Awards.
String Theory is not a music group or a dance company, but a hybrid of the two. Rothschild is the choreographer and artistic director; her husband designs, composes and builds the instruments, and Harvey plays the cello.
Rothschild co-founded with ensemble with her husband and Harvey. "My husband and I wanted to do some multimedia work that combined different genres…so we decided to take those elements and combine them into a performance group," she explained.
In addition to using traditional instruments, the ensemble builds functioning large-scale string instrument installments, which range from 24 to one thousand feet in length. The group also writes music that integrates a variety of instruments for their performances. In fact, this summer they released an EP called "Stories."
Rothschild has extensive experience in dance and choreography; she has worked with many dance and theater companies as both a performer and choreographer. Her husband, a film composer and Sundance Composer Fellowship recipient, draws on his background in visual arts to design the long-string architectural installations. Harvey contributes his skills as a cellist and composer.
In addition to the three founders, the group features other musicians and dancers who play traditional instruments and perform around the large string instrument installments.
"Ms. Rothschild's choreography evokes an unsettling, but at the same time an elegant, understanding of the human condition in its most primal form," explains fellow Marlborough dance instructor, Mpambo Wina. Wina describes Rothschild's choreography as finding movement through need. The movement itself, according to Wina, finds a way to make the audience members feel more aware of their own humanity.
"It's a hybrid of these long-string architectural instruments and contemporary dance and original music," Rothschild said of String Theory's style of performance.
Much of Rothschild's current choreographic work is site specific and not choreographed for a traditional stage.
"[String Theory likes] to think of our performance as an immersive environment that's site specific even if we're inside [an auditorium]," she explained.
Rothschild began teaching at Marlborough last year and helped put together the All-School Dance Concert. Before coming to Marlborough, Rothschild was a freelance dance instructor all over Los Angeles.
"I've always been a teacher. It's always been a part of what I do as a working artist," Rothschild said.
Her students, including Grace Kim '17, say that Rothschild's choreography has a flowy nature to it, which Kim believes adds to the freeing feel of Ms. Rothschild's pieces.
"[Ms. Rothschild] encourages us to choreograph a lot ourselves, which I think is pretty cool," Elizabeth Eicher '17 said. Eicher added that she does more tumbling in Rothschild's class than she is used to doing with other dance teachers.
Rothschild hopes to bring long-string instruments to the School in the near future.