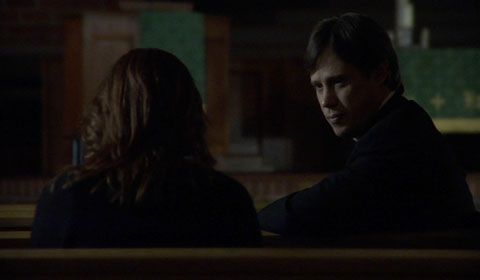 Marlborough English instructor Chris Brinsley is currently wrapping up production of "Second Chance," a short film he has been working on for the past four years. Brinsley decided to begin the project with Kingsley Opara and Oliver Chow, two people he met at the New York Film Academy in Burbank. Brinsley and his partners hope to submit "Second Chance" to film festivals next summer.
The film, which Brinsley calls a drama with characteristics of a thriller, is about a woman who is pregnant and in an unhappy marriage. Because her husband is unsympathetic towards her, she struggles to find a way to maintain her hope for her baby during this time in her life.
Brinsley admits that the process of completing a film can be tedious. "The point of the film was to create something that comes off as genuine, moving and engaging. The craft of putting a film together takes so long, and each step requires a different skill, offering an intellectual and emotional challenge for the creator," he said.
Brinsley and his partners shot the film throughout Los Angeles for three weeks a few summers ago and have been editing it since then. The original cut was a total of eighteen minutes, but Brinsley later made the decision to edit it down to nine minutes because he prefers to convey the ideas in the film concisely. Not able to work on the film full time, Brinsley has resorted to editing it during his free time.
"To me it is a lot more interesting to communicate emotions, motivations, and attitudes through hand gestures, facial expressions, lighting, and camera movements rather than through dialogue," Brinsley remarked.
Brinsley and his partners, who have been working on a tight budget, held auditions, hired makeup artists, and shot the film entirely themselves, and they only had to pay for the makeup artists. Even the actors were willing to work for free because they wanted a copy of the film to put into their portfolios.
Additionally, Edward Miller, English Instructor, agreed to compose the music for the film. Brinsley asked Miller to compose the music after Binsley had filmed the short movie. According to Miller, the music for the movie is mostly electronic and ambient which fits what is going on in the movie.
Miller and Brinsley are friends outside of school and spend time together watching and discussing movies, but for this movie "I am trying to come up with a memorable theme that comes up a few times. I wrote an electronic piece but he wanted something that is more acoustic and piano with an electronic background. I was inspired by the music in the movie "The Social Network" because the music is simple sounding and creates a nice atmosphere," Miller remarked.
The trio is currently color correcting the movie to fix lighting issues so all of the camera angles look consistent.
"I like movies that are well made and that have something specific to say about the world. I like movies that take chances and don't just take the safe path and follow a common structure. I like films that try to venture into new artistic territory," Brinsley concluded.