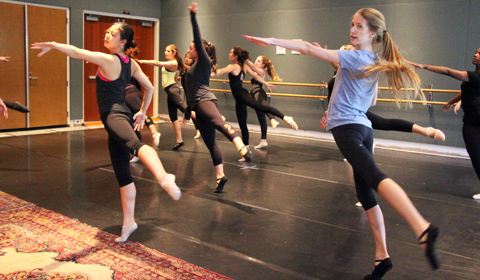 Despite the flooding of the Lower Dance Studio over the summer, Dance Dimensions, the School's audition-only dance company, has faced minimal setbacks during class and after-school rehearsals.
Over the summer, Head of School Barbara Wagner informed dance instructor Mpambo Wina that the lower studio sustained flood damage, and Wina then emailed Dance Dimensions members a few weeks before school started. Originally, Wina thought students would have to practice after school at an off-campus dance studio during renovations.
Dance Dimensions member Sabrina '16 was worried at first about the prospect of having to rehearse off-campus.
"If we all had to drive [off campus] and back, it would cut into our time a lot. [Some] people also take the bus, so it would be hard [for them]," Sabrina commented.
Although Wina was shocked at the extent of damage of the Lower Dance Studio, the floors of the studio were not in a state that would force Dimensions off campus. Wina was able to order and install temporary Marley floors for the studio. Marley floors are vinyl, matte, non-skid dance floors. As it turns out, members of Dance Dimensions like the Marley floor a lot better than the studio's wood floor.
"Personally, I like the Marley floor better than the wood [floor], so it hasn't been affecting us very much. [In the past], we've always had some issues with the wood floors being too slippery," Sarah '15 remarked.
Cleo '15 also enjoys dancing on the Marley floor.
"I like the Marley better than our old floor. In our shows, we dance on Marley on the stage, so it's good practice," Cleo said.
Wina has had the help of Department Head of Performing Arts Anne Scarbrough and new Head Facilities Manager Matt Riddle to install new floors quickly. Renovations haven't started yet, but Wina has plans to install new sprung floors. Sprung floors, which contain springs, help support the lower back and joints and are easier for dancers to jump on. Once renovations are started, it should only take a week to install the new sprung floor.
"Under the circumstances, [it is complicated to get new floors] because there is so much else that happened around it. [But] I do think it's going to be really nice to have a really professional floor," Wina mentioned.
"I hope that it's nice, bouncy, and slippery. I can't wait to jeté on it!" Cleo commented.