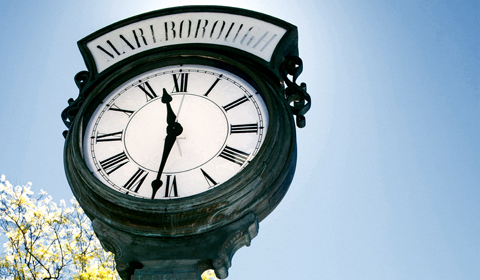 In celebration of Marlborough's 125th anniversary, Judy Campbell '65 will release a book about the School's history on Saturday, Oct. 11, 2014. Entitled An Ever-Enduring Spirit: Marlborough School 1889-2014, the book describes each Head of School's time at Marlborough, starting with Mary Caswell and ending with current Head of School Barbara Wagner. Campbell's book commemorates long-standing traditions at Marlborough, such as the Senior Mascot Presentation, and focuses particularly on the four core values of Excellence, Community, Honor and Confidence.
In addition to being a Marlborough graduate, Campbell is the mother and sister-in-law of alumnae and a former English Instructor, UltraViolet advisor and Associate Director of Admissions at the School. When she was approached by Wagner about writing the book, Campbell was honored.
"I was a little stunned and overwhelmed. I had never written a book before, [but] I had done a lot of writing. I, obviously, was extraordinarily honored, flattered and excited," remarked Campbell.
During the writing process, Campbell delighted in learning and writing about the coinciding histories of Marlborough, Los Angeles and world affairs. During the 1920s, for example, the movie industry of Hollywood was growing, and Marlborough girls were let out early on Friday afternoons to go to the cinema or the symphony. In addition, during World War I, girls and an advisor spent a summer in Perris, California picking apricots, whose pits were collected and burned to make carbon for soldiers' gas masks.
"The way in which the world outside came into the School fascinated me. I bet the girls today would never imagine Marlborough girls doing something like that in 1917, because they would think that they were sitting around drinking tea [instead]," Campbell said.
School Archivist Peter Chinnici helped with the research for the book. While Chinnici already knew much of the information Campbell needed, he had to search through archives regarding the very early history of the School and the period from 1940s to 1960s.
The 156-page An Ever-Enduring Spirit: Marlborough School 1889-2014 is published by Balcony Press of Glendale. It will be available to purchase at the 125th Birthday Bash on Oct. 11 and later at the student store.