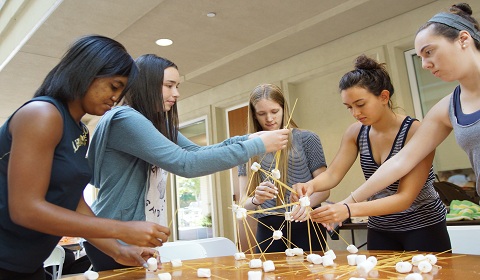 This year, on Aug. 28 and 29, each Upper School class participated in two-day retreats designed to prepare students for the school year ahead.
In past years, class retreats have been held at different points throughout the year, but this year the Upper School Deans decided to schedule the retreats during the first week. Factors leading to this shift included the desire to bond the classes before school work intensifies and not to disrupt the school year.
According to 11th Grade Level Dean Sandra Battiata, the timing of this year's class retreats worked well.
"I think it was a really great bonding experience for the class. There is very little stress at the beginning of the year, so girls can be more focused and engaged in the activity," she remarked. "I think it took off a lot of the stress of having to do it in the middle of the year and people having sports events or other commitments."
The sophomore class, who named this year's retreat "To Be Honest," discussed many topics related to diversity, including race, socioeconomic class and religion.
Outside facilitators included many activities geared toward improving communication and listening skills. The 10th grade retreat debuted last year, when the School's diversity committee suggested that a mandatory retreat was needed in order to raise consciousness among students.
10th Grade Level Dean Tom Millar articulated some of the ideas that went into the planning of this year's retreat.
"Part of the thinking was, 'Why don't we have some experience that will lay the foundation for some of these discussions that's actually mandatory, that's like a class?'…I don't have some idealistic vision of everybody being best friends with everybody else, and the facilitators aren't like that either," he said. "It's almost the opposite, assuming that there are going to be people who just rub you the wrong way for different reasons and learning how you still treat that person with respect and communicate with them because everybody is worthy of respect."
Many sophomores had positive views on the retreat, especially the sleepover on Thursday night.
"I liked that we got to play different games before we went to sleep…It was really fun to be in the ARC without anybody there," Alden '17 said.
The junior class participated in mindfulness activities led by History and Social Sciences Department Head Mike Rindge and physical education instructor Christine Burke. The next day, the girls went off campus for field trips around Los Angeles, including trying food from different restaurants in Boyle Heights, building a house with Habitat for Humanity, hiking in the Angeles Forest and visiting local art museums.
Battiata chaperoned the trip to Boyle Heights and enjoyed having the opportunity to visit a part of the city that she was not familiar with.
"I grew up in LA and I've never been to Boyle Heights. That was the same for many of the students that were there. We learned about the history of Boyle Heights and ate goat, which I did not know we were eating until they told us after," she said.
During the senior class retreat, students worked on their graduation dress design, chose their mascot and began working on yearbook pages. Additionally, to help with seniors' upcoming college applications, Brag Lady Peggy Klaus, founder of BRAG! CONNECTIONS, helped students prepare for interviews through practice interviews and pep talks. The girls also had college counseling workshops with College Counselors Michael Heeter and Monica DePriest.
12th Grade Level Dean Alison Moser said that everybody had something to take away from the experience.
"I feel like [the senior class is] off to a rocking start," she said.