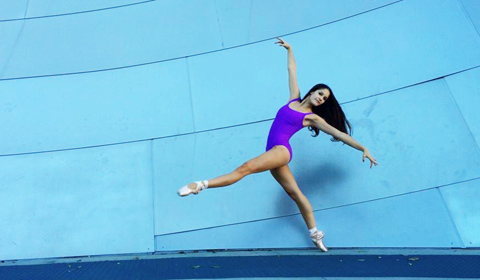 Anna '15 has practiced ballet since the age of three. She has danced in countless shows, worn out hundreds of pairs of pointe shoes and dedicated thousands of hours to perfecting the art form. As of Sept. 2, 2014, Anna has been training at the Colburn Dance School, a prestigious ballet academy for the most dedicated and talented dancers aged 14 to 19. Her mentors, Jennifer Ringer and James Fayette, were principals in the New York City Ballet and later moved to Los Angeles to start a dance academy at the Colburn School.
The selection process for the Colburn Dance School is intensive; approximately 300 dancers audition from all around the country, but only 12 gain admission. The majority of the students who attend the school live on campus and finish their high school education online.
Anna is one of three in her class that continues to attend a regular high school.
"Training at the Colburn facility and attending a normal school is very difficult to manage, because classes at the dance academy start at 12:30 pm and finish at 5:00 pm," Anna noted.
Anna normally takes three classes in the morning at Marlborough, and when she finishes classes, she has to find time to change, eat and do her hair between 12:00 pm and 12:15 pm in order to get to downtown Los Angeles by 12:30 pm.
"I really like this schedule, because instead of wasting time during my free periods, I get to leave school early and do something productive and practice what I really love," Anna said.
The Colburn Dance School focuses primarily on perfecting the Balanchine method, a style of ballet that emphasizes rapid and precise movements. Monday through Friday afternoons, Anna begins with an hour and a half of a regular technique class and another hour of pointe class, which helps perfect the alignment of the feet and body. After those two classes, students have time to take elective classes such as tap, drama or piano lessons that are available within the Colburn School. These elective classes are offered to help the students become more well-rounded artists. In addition to weekday classes, she continues to practice for six to eight hours on the weekends as well.
"The biggest benefit of the Colburn School is that the teachers can focus on you by really pushing you and giving you individual attention that is necessary to improve," Anna said.
The rigorous dance curriculum Anna undertook this year is not unfamiliar territory for her. Before she started practicing at the Colburn School, she had been training intensively for three to four hours a night during the week at her old studio, Westside Ballet, and up to eight hours on weekends. In addition, she attended a number of ballet summer intensive camps in Boston, San Francisco and Carlisle, Pennsylvania.
Although Anna now spends less time at home, her mother, Leslie, enthuses about the benefits of this program and Anna's development.
"This opportunity is not only an asset to her development as an artist but also as a young woman, and I am so proud of her. I am so grateful to Marlborough, to Mrs. Hotchkiss, Mr. Heeter and all of Anna's teachers who are providing the flexibility that she needs to be able to make this work. She could not be doing this if it were not for [their] support," Leslie said.