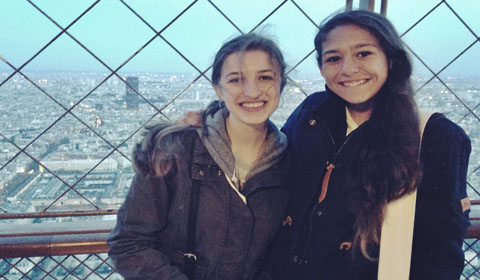 On Friday Mar. 21, seven Marlborough girls, along with Foreign Languages instructor Elizabeth Vitanza and Assistant Head of School and Head of Upper School Laura Hotchkiss '86, departed from Los Angeles International Airport (LAX) and embarked on a 13-day exchange trip to Paris, France. The trip is part of the newly established foreign exchange program at Marlborough, which also includes exchange programs in China and Argentina.
The French exchange program was established as part of the School's Strategic Plan to "extend the four walls of the School." Vitanza explained that the program aims to provide a meaningful, standardized experience in which students can escape their comfort zones and embrace a new way of life.
"It's one thing to read and study about languages, and it's another to put it into practice," Vitanza explained.
During the trip to Paris, the Marlborough students lived with host families, went on evening and weekend outings planned by their host families, and attended a few weekday school classes with their host siblings. The weekend outings included visits to Versailles, a multitude of museums, and locally-known pizza restaurants.
In addition, the students were able to explore and enjoy the city's cultural landmarks, such as the Eiffel Tower, the Avenue des Champs-Élysées and the Louvre.
"My favorite part of the trip was visiting all these amazing places that I've only really read about or seen in pictures. It was a wonderful experience that I'll never forget," Olivia '16 said.
Other students, such as Zoe '15, enjoyed experiencing a different type of education during her visit to the school.
"I loved going to the school because it was coed, the kids were so nice and cool, and they loved having a foreign exchange student. The class wasn't really a class, as everyone was just talking and hanging out," Zoe recalls.
The French exchange program not only enables students to get immersed in another culture; it also gives students an opportunity to host French students and to form close friendships with other teenagers around the world.
In February, as a part of the exchange, 19 French students from Lycée Victor Duruy in Paris visited Marlborough and were hosted by Marlborough students for one week. Lycée Victor Duruy is a prestigious middle and high school that Vitanza came into contact with through a colleague at Polytechnic School in Pasadena, which has a long-standing foreign exchange program.
According to Vitanza, the French students' February visit to Los Angeles was a success; however, she mentioned that both the French students and the Marlborough students experienced culture shocks.
For example, many of the French students openly smoke on a regular basis, which is not something Marlborough students are used to seeing in school and home environments. During their visit, the French students only attended classes at Marlborough for one day and spent the rest of their time on daily excursions around Los Angeles, visiting sites such as the Santa Monica Pier and the Los Angeles County Museum of Art (LACMA).
Several of the Marlborough students who hosted French students in February made lasting friendships with their exchange students and were delighted to see them again in March.
"Louise and I became really good friends and we got to explore Paris together, which was amazing," Maddy '15 said.
Vitanza noted that several Marlborough girls who hosted a French student in February but were not able to attend the Paris trip are making plans to see their host siblings over the summer.