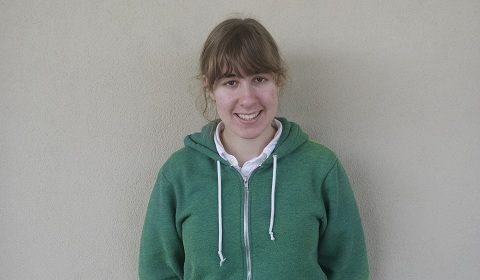 On Jan. 8, Clara '14 anxiously waited to hear whether or not she made it to the semifinals of the Intel Science Talent Search (STS). The Intel STS, which is conducted by the Society for Science and the Public, is the nation's most prestigious and competitive science research competition for high school students. Since 1942, the competition has, according to its website, allowed "the country's best and brightest young scientists to present original research to nationally recognized professional scientists."
Clara is one of only 300 student semifinalists in the STS. From the group of 300 semifinalists, 40 finalists will be selected to go to Washington, DC in March to show their work, participate in final judging, meet with notable scientists, and compete for the top award of $100,000.
Clara entered the contest with the theoretical physics research she has been doing with the Honors Research program at Marlborough since she was in 11th grade. According to Clara, the aim of her research is to "produce a generalized mathematical model of the combined effects of geometry and thermodynamic cycles in generating geometric effects in mechanical systems."
Throughout her research, Clara has worked with mentors Mircea Trif and Yaroslav Tserkovnak, both of the Department of Physics and Astronomy at UCLA, whom she met with the help of Honors Research in Science Program Head Elizabeth Ashforth.
According to Ashforth, most Honors Research students enter into competitions, and science students participate in the Science Exchange on campus, where they share their research with the Marlborough community.
"Students who are in their second year of research are expected to reach out into the science community either through science fairs or by organizing our annual Student Science Exchange," Ashforth said.
Some students get involved in local and national science fairs, and others, like Clara, compete in highstakes competitions like the Intel STS. Clara is the first Marlborough student in three years to make it this far in the Intel competition, and her work has inspired many students to get involved in the Honors Research program.
Kendall '16, who will be starting her research next year, was influenced by Clara's research and her success in the Intel competition.
"Seeing Clara become a semi-finalist because of her Honors Research has really inspired me to pursue it as well," Kendall said.