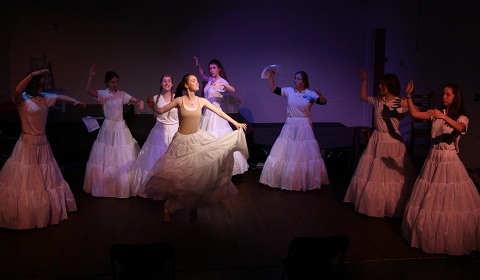 For the Drama Ensemble's annual spring play this year, the performing arts department decided to create an original play in order to celebrate Marlborough's 125-year history. The performances of the play entitled Project 125, will occur on March 6, March 7, March 13, March 14, and March 15.
Over the summer, Performing Arts Department Head Anne Scarbrough, along with Performing Arts Instructor Gleason Bauer and head writer Lizi Watt, asked the Drama Ensemble students to interview at least current students, faculty, and at least three Marlborough alumnae in order to learn more about the School's history and culture.
"We got together and came up with a list of questions that we thought the girls might want to ask in the interviews because we know that, theatrically, it helps the structure if we have the same kinds of questions that each person was asked." Scarbrough said.
Archivist Peter Chinnici also found published Marlborough journals from as far back as 1889.
"That was the basic concept that we started with. [We used] the content from these interviews and the content from the journals of the School. We've gathered other content along the way, but…that alone is stacks and stacks of paper and pages of wonderful stories things that these women and people from the School have shared with us," Scarbrough said.
Since the play this year is an original piece, the performing arts department is cautious about the material of the play.
"[Although] there are still parts of the show that are about how Marlborough hasn't always been perfect, it's less so than it was earlier. I think that now we've focused ourselves more on the history of the School and how much it has changed in its 125 years. Part of the reason that we altered our focus was from a request from the administration," Sabrina '17, a member of the Tech Team for the production, said.
The experience of creating and original play has been a challenging but a rewarding experience for many of the students in the Drama Ensemble.
"It's really interesting to learn about the School because I'm finding out so much about Marlborough. Even though we learn quite a bit about the School just from attending, I've learned so much more… [Putting on an original production] can be pretty crazy at times, and it's a lot more work, but I've been having so much fun with it," Sabrina said.