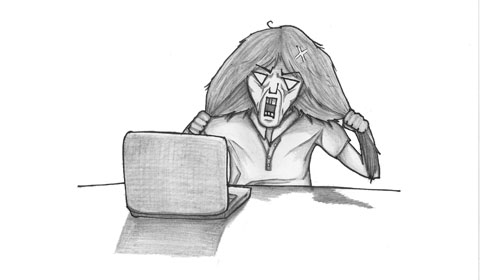 Currently accepted by more than 500 colleges and used by thousands of high school seniors, the Common Application is an undergraduate college admissions application that enables students to apply to multiple colleges using a single form.
This year, the Common Application implemented new software to enhance its website, but the new system has crashed repeatedly in the past few months, most recently on Tuesday, Oct. 22, and it continues to have serious complications.
Olivia '14 was one of many Marlborough students who faced difficulties with the Common Application this fall.
"All of my stress was crashing down on me because the Common App complications were just one extra thing that added on to all the other things I have to worry about senior year," Olivia said.
Students attempting to submit their applications have been frustrated by the numerous website malfunctions. For example, the website takes days to register application fees, sometimes causing students to inadvertently pay more than once.
McKenna '14 said that she paid a $70 application fee to one school, but because the Common App took more than two days to verify that her payment went through, it impeded her from submitting her supplement, and she was ready to pay the fee again when the Common App's website finally confirmed that her payment had been processed.
"I was frustrated at the thought of having to pay again, and it was stressful because with deadlines it's vital to get your application in on time. When there is a technological disconnect there is nothing you can do about it; you're kind of powerless," she said.
Claire '14 expressed frustration with the format of the personal statement essay. "It was frustrating because I spent so much time trying to format the essay and look the way I wanted it to appear with paragraph breaks, but the Common App software wouldn't let me," she said.
Indents and spacing are unavailable for the 650-word personal statement, which consequently appears to be one long paragraph. Rosebeth '14 said that the website told her that her essay was hundreds of words over the limit, despite its adherence to the word count.
Other students, like Clara '14, have struggled with the absence of a save button, which causes recent work to be lost during the site's frequent crashes.
Aware of the lack of control students have over these software "glitches," many colleges decided to extend their early decision and early action deadlines from Nov. 1 until Nov. 8 in order to relieve the pressure on students.
Scott Anderson, the Common Application's senior director for policy, defended the site's complications on National Public Radio (NPR), saying, "We did test the system, but what we couldn't test was tens of thousands of people hitting the system at the same time using multiple kinds of browsers."
College counselor Monica DePriest confirmed that the issue has had a noticeable effect on the application process this year.
"The way we've really asked students to address it is to be even more diligent about submitting applications in advance to the deadline," she said.
Although two major fixes have been made regarding the payment process and the ability to access the website through a Chrome browser, many college counselors have been advising students to plan ahead in order to avoid any possible future complications that will affect their application status.