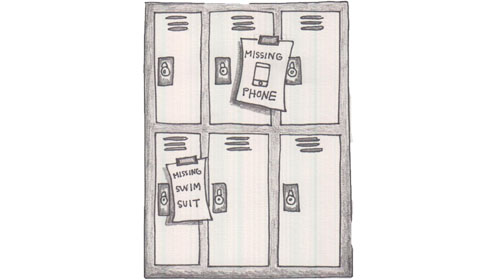 Rushing to change before Physical Education in seventh grade, Lily '17 stuffed her wallet into her locker, piled her school uniform on top and slammed the door. She left the padlock sitting inside. When Lily returned after her class, the clothes remained, yet the wallet was gone. A search of the locker room located the wallet; the gift cards were still inside, but $100 in cash was missing.
"I was very surprised…I never expected that to happen," Lily said, adding that the shock upset her to the point of tears.
Lily's experience is reflective of many instances of less substantial thefts in the downstairs locker room, despite the Physical Education Department's provision of padlocks at the beginning of each school year. While students attend PE classes, open lockers occasionally entice others to steal items like t-shirts, shorts and towels, in violation of The Understanding's zero tolerance policy.
In response to Lily's loss two years ago, Physical Education Department Head Julie Napoleon warned students at the start of the semester that they could receive conduct infractions for leaving their lockers open.
"It seems weird that we have to impose such mandates to have people want to protect their things although we have an Honor Code, and things shouldn't get taken," Napoleon said.
Most students explained that, regardless of the risk, they prefer not to lock-up their belongings in order to save time during the five minutes before and ten minutes after class.
"I'm really bad at opening locks," Caroline '18 said. On the final day of classes last school year, when students had to return their towels or pay a $3 fine, Caroline recounted that all the towels vanished from the open lockers in her aisle. She speculated that girls dismissed earlier in the period by their instructor had grabbed items from other open lockers rather than forfeit the cash.
Additionally, many girls said that they neglect to use their locks because a thief would not covet their sweaty, worthless gym clothes. According to Napoleon, Lily's financial loss was the most excessive in recent memory. Nonetheless, Elliott '16 estimated that the replacement of goggles for her swim course cost around $15 to $20. Similarly, the purchase of new youth shirts or shorts from DENNIS Uniform costs $11.25 and $15 respectively.
Though few could recall cases of theft from school lockers above ground, the majority of students said they knew victims of robbed PE lockers.
Brooke '16 noted that students from other schools utilize the PE lockers for club practices or private training sessions on campus, so open lockers are susceptible to theft by those outside of the Marlborough community. Julia '14 said that she suspects that some Marlborough girls accidentally snatch items from others' identical lockers.
Brooke also said that girls are "so used to leaving their lockers open in the locker halls. The fact that nothing has been stolen in the locker halls [makes students] feel reassured that they can leave their PE lockers open."
The frequency of transgressions in the locker room indicates that, in contrast with most girls' confidence in the security of the Understanding, some do not adhere to its principles. In reasoning why culprits may observe Marlborough's guiding doctrines upstairs but not downstairs, Caroline said, "The upper hallways are pretty crowded. Someone would see."
Despite the locker room infractions, both girls and teachers said they believe that the promotion of individual integrity best prevents Honor Code violations.
Napoleon elaborated that the alternative to the reliance on students governing their own conduct involves the placement of instructors in the locker room. She said that Marlborough's PE Department "never even entertained that idea," staying consistent with The Understanding's assertion that "self-discipline is more valuable than imposed discipline."
Students said that they share Napoleon's priorities. Julia agreed that a stakeout would contradict the Honor Code's presumption of students' virtue.
"It would just assume that [the adults on campus] don't trust the students," Julia said.
Napoleon remarked that honor and trust depend on students regulating their own behavior.
"You do the right thing whether someone's watching or not, just because within yourself that's the honorable thing to do; and that's what we have to hope students will think," Napoleon said.
Middle School President Gracie '17 recently reflected at the All-School Honor Assembly on Sept. 16 that her grade's donations to repay Lily for the money she lost during their seventh grade year increased her appreciation for the Honor Code.
"Stealing or taking money is not going to make you feel better. [Thieves] will get the message that everyone wants to support each other," Gracie said later.