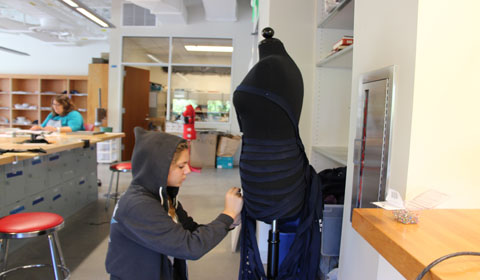 This year, Marlborough School became one of the first high schools in the country to offer a visual arts course that explores fashion history and design. The class, called The Intersection of Art and Fashion, is taught by Visual Arts Department Head Gina Woodruff, who has a B.A. in Textiles from Syracuse University and experience as a costume designer for productions both inside and outside of Marlborough.
According to Woodruff, the new class was inspired several years ago by a student survey that indicated students' desire for a fashion course. Woodruff adds that there have always been students at Marlborough interested in fashion, and throughout the years there have been students who have integrated fashion and costume design into independent studies across the visual and performing arts.
Woodruff's class is not a typical fashion class; it is experimental and individualized, integrating art and fashion instead of being a technical sewing and tailoring class commonly found at the high-school level.
"It's really not a class like couture sewing or learning to make really fancy clothes. It's talking about fashion and the intersection of art as a 3D object," Woodruff said.
The girls have begun their first project of the year, in which they will repurpose garments from the lost and found and turn them into original creations. According to Maddy '15, the project was very open-ended without any pressure to make a certain style or article of clothing. For her project, Maddy cut an old, gray t-shirt into thin strips, knit them together in order to create a cropped top, and then added leather brought from home. Other students used sweatpants and sweatshirts, as well as t-shirt fabric.
Though Maddy has experience in fashion—through personal projects and summer programs—she added that no previous sewing skills are needed for the class, as Woodruff teaches everything, including basic sewing techniques.
As the class is just starting out, it features no set curriculum, but Woodruff has several ideas for upcoming projects. She says that students might create garments influenced by a historical costume or a contemporary fashion designer, accessories like hats or headpieces, or other designs involving recycled or nontraditional materials similar to those seen in the popular TV series Project Runway.
So far the response from students has been overwhelmingly positive. Olivia '16 and Claire '16 signed up for the class with no previous fashion experience simply because they were interested in fashion and wanted to translate their ideas into art. According to Claire, the class is very self-led and provides a lot of independence for students to branch out in many different directions.
"It's a fun, different form of art, and hopefully more people will sign up for [the course] next year," Olivia said.