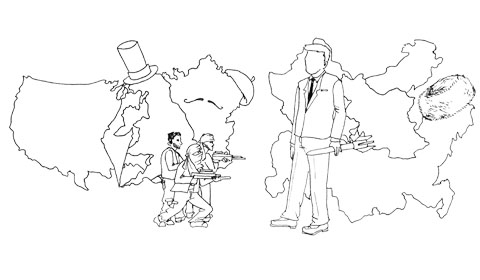 The Syrian Civil War
Tensions between the Syrian people and the regime of President Bashar al-Assad have been building since the early 2000s. In March 2011, a group of over 15 boys was arrested for graffitiing anti-government messages on school walls. When some of the boys were killed in custody, protests spread across the country. This event, amid the revolutionary sentiment of the Arab Spring, sparked rebel groups in Syria to rise up against the Assad regime; in 2012 the protests escalated into a violent civil war.
Assad is a member of the ruling Alawite minority, an offshoot of Shia Islam associated with the pan-Arab secular socialist Ba'ath party, which has ruled over the Syrian Sunni majority since 1963. The regime also suppressed domestic opposition and failed to fulfill promised economic and political reforms. Militias in Syrian villages united as the Free Syrian Army (FSA) by June, the main rebel group fighting against the Assad regime. Various other Middle Eastern groups, including terrorist groups such as Al Qaeda, have since flooded the ranks. Over 100,000 people, including civilians, have been killed so far, and the United Nations (U.N.) estimates that over 1.5 million people have become refugees.
International Involvement
Some countries, including Russia and Iran, have sided with Assad's government, while others, like the United States and France, want to see Assad overthrown but have been reluctant to directly intervene. While Russia has been supplying weapons to Assad's military for some time, the U.S. only recently began directing weapons to rebel groups.
Obama's "Red Line"
In 2012, President Barack Obama described a figurative "red line."
"A red line for us is [when] we start seeing a whole bunch of chemical weapons moving around or being utilized…That would change my equation," Obama said, referring to his preexisting plan to abstain from military action.
In August, Assad's regime perpetrated a large-scale chemical weapons attack that killed over a thousand people, including hundreds of children, in a rebel-held suburb of Syria's capital, Damascus. The attack forced Obama and Congress to decide whether or not to strike Syria militarily. While some in Congress advocated for more direct help to the rebels, others rejected military involvement, worried that the U.S. would end up in a "quagmire" like Iraq or Afghanistan.
The Plan: Dealing with Assad's Chemical Weapons
While the U.S. was choosing a plan of action, Secretary of State John Kerry made an offhand and somewhat sarcastic remark during a speech, saying that if Assad were to allow the international community to acquire and destroy Syria's chemical weapons, the U.S. would refrain from military action.
Russian President Vladimir Putin jumped on this comment and offered to facilitate an agreement between Assad and the U.N. to locate and destroy Syria's entire arsenal, so long as the U.S. did not intervene militarily.
His offer potentially provides the same outcome that Obama and Congress advocated for, and although taking military action would prove Obama's red line threat credible, it could drag the U.S. into another unpopular overseas conflict.
Concerns About the Plan
Islamic extremism threatens regions in and around Russia. If anti-Russian terrorists obtained weapons from Assad's arsenal by collaborating with extremist groups in Syria, Russia would face serious risk of attack. Eliminating the chemical arsenal ensures Russia's safety.
Since Syria is in the midst of a chaotic civil war and Assad could lie about the weapons' locations and existence, finding and destroying them could be extremely challenging.
Russia doesn't want the U.S. to intervene unilaterally because that would set a precedent for future U.S. military involvement in the Middle East. Russia would be left out of decisions concerning that region, ceding power to the U.S. and potentially compromising its status as one of the "great powers."
Progress Made So Far
The Organisation for the Prohibition of Chemical Weapons (OPCW) reviewed Syria's chemical weapon inventory. The OPCW works closely with the U.N. and aims to destroy, eliminate the production of, and protect against harm from chemical weapons internationally.
The OPCW began destroying Syria's chemical weapons and equipment on Oct. 6. The organization hopes to eliminate the country's entire stockpile by mid-2014.
Assad has claimed the information from the OPCW disclosing Syria's weapons program is "credible." He said that the Syrian government "will honor everything that [it has] agreed to do," which includes cooperating with the plan to end chemical warfare.
On Oct. 7 Secretary of State John Kerry praised Assad's cooperation, saying he was "very pleased" that inspectors have commenced disabling the Syrian stockpile. Although the international community is able to breathe a sigh of relief at the wrap-up of the chemical weapons ordeal, a civil war still rages in Syria, with many thousands of lives still at stake.