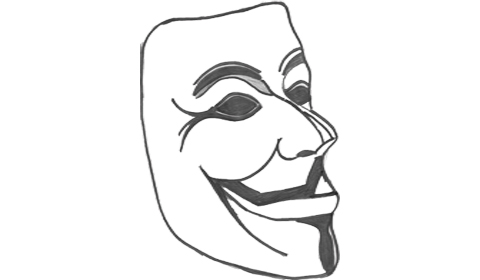 By Suhauna '14 and Alex '14
One by one, the PayPal 14 read their full names aloud in the San Jose courtroom this past February. Charged with two felony counts each, with a combined maximum sentence of 15 years in prison and a $500,000 fine, the two women and 12 men hail from 12 different states and range in age from 18 to 44. None of the defendants look as if they would ever associate with each other in real life. Instead, they are banded together by a common crime, committed from behind computer screens, within the safety of their homes.
All 14 belong to a loosely organized hacktivist collective called Anonymous, which broadly aims to keep information free and achieve social good through the Internet.
In November 2010, WikiLeaks, an international organization that seeks and publishes classified information, released about 250,000 classified State Department documents. After PayPal, the online money transfer giant, froze WikiLeaks' accounts, Anonymous retaliated with OperationPayback, targeting PayPal and other financial services.
The PayPal 14 organized a Distributed Denial of Service (DDoS) attack against PayPal, rendering the site unusable between Dec. 6 and Dec 10. 2010, which ultimately cost PayPal $5.5 million.
From the online petitions of Change.org to the Facebook-fueled protests of the Arab Spring, the Internet age has seen quicker and flashier methods of galvanizing support for a cause. Some groups, however, employ darker methods to effect sociopolitical change. WikiLeaks is an example of hacktivism, or political activism using computer networks, which often involves disabling websites or obtaining and disseminating classified information through unauthorized means.
Some people believe that hacktivism is a form of free speech that should be protected under the law, but others believe that Anonymous is a criminal organization that sets a dangerous precedent for the future of activism on the Internet.
Are groups like Anonymous heroes fighting for social good? Or are they illegal bands of Internet marauders? As more rogue groups that have the power to restrict others' access to the Internet emerge, what will the future of online freedom look like?
DISORGANIZED MUCH?
Some claim that Anonymous' lack of formal structure is its greatest strength, while others have said that the disorganization has caused the group's influence on international politics to wane. One member, Macbeth, described the group as "everyone and no one, so if you wish to be Anonymous, you are."
The blanket name "Anonymous" refers to a disunified mass of individuals, none of whom control the group's reputation. Anyone can join Anonymous or lead an Op, or operation. One member could lead an Op that goes against the values of every other person who has ever been involved in Anonymous.
21-year-old Sven Slootweg from the Netherlands, a member of Anonymous, posited that Anonymous itself is more of an idea than an organization.
Lawyer Tor Ekeland is representing the LA Times' former social media editor Matthew Keys against charges of conspiring with Anonymous to attack the Times' website in 2010. Ekeland said Anonymous draws some its power from its lack of centralized leadership.
"I think [Anonymous] scares the government a little because they feel like they are playing Whack-A-Mole, since there is not a singularity that they could point to," Ekeland said.
Reporter Adrian Chen has written extensively on Anonymous and Internet culture for Gawker, a New York-based news and gossip blog. Chen pointed out that if Anonymous was more organized and hierarchical, the people in charge would be easier to target and arrest.
Tess '14 said that she believes that the lack of structure prevents the group from being well-informed and makes some of their Ops destructive.
"When [Anonymous] does get some information, it sparks them to take action without completely knowing what they're doing, resulting in a lot of unnecessary damage," Tess said. "They just don't really know what they are doing half the time… and that is ultimately more dangerous than whatever they think that they could be trying to fix."
Macbeth and other members said they believed Anonymous might be more effective if it was more organized but this type of change would alter Anonymous entirely, as the group's inherent philosophy rejects formalized organizations that restrict people and information.
"It would make no sense whatsoever to apply hierarchy to Anon[ymous]," Slootweg said. "If one desires hierarchy, there are plenty of organizations to choose from. Anonymous can do things because of its diversity… applying hierarchy would kill off that diversity and make it exactly like all other organizations."
HOW LEGAL IS HACKTIVISM?
The broadness of the language in the Computer Fraud and Abuse Act of 1984 allows the US to prosecute hacktivists for a wide range of crimes; however, members of Anonymous and some legal scholars argue that this law is not specific enough and should be rewritten. Others argue that hacktivism constitutes free speech and should be entirely legal.
Jay Leiderman, a criminal lawyer whose private firm in Ventura specializes in computer crimes and hacking, explained that the statute outlines overarching policies that don't distinguish between harmless and harmful situations.
"Just about anything you do on the computer could be considered illegal [under the statute], and that's kind of crazy," he said.
The illegal action most commonly used by hacktivists groups is a DDoS attack, which forces a targeted website to shut down, stopping anyone from accessing the site.
Leiderman said he believes the government should acknowledge DDoSing as a legal form of protest, protected under the First Amendment of the Constitution.However, the outages caused by DDoS attacks can bring millions of dollars of damage to businesses, especially if confidential information is released.
In February, Anonymous initiated a DDoS attack on the investment firm George K. Baum & Company, defacing their home page and exposing confidential information about the company's clients.
"[Hacking] is one of the most concerning topics that firms like ours are currently dealing with," Chairman and Chief Executive Officer Jon Baum said in an e-mail. "Protecting the privacy of our clients' information is of paramount importance."
Furthermore, DDoS attacks can be initiated by well-versed hackers and then strengthened in a few clicks by virtual passersby who many not realize the legal implications of their actions.
Since the PayPal attack used an open-source computer program that was available as a free download, many people saw the page for the attack and decided to join in. Although 14 people were charged, PayPal claimed over 1,000 distinct computers participated in the attack. It is unknown whether those arrested were core participants in Anonymous or just passersby.
"I feel bad for the people who thought they were just pressing buttons, and now they might be facing years in jail," Chen said. "I don't think someone should go to jail for DDoSing a site once. But I think some of them did know that they were breaking the law."
For the past two years, the PayPal 14 have faced rejection from jobs, family and friends as their indictment remains unresolved. Those charged met for a close-doored hearing on May 13 in a federal court in San Francisco to arrange a settlement.
Mercedes Haefer, a 22-year-old sociology major at the University of Nevada, Las Vegas, and one of the two female members of the PayPal 14, told the Huffington Post on May. 18 that she still believes in the freedom of speech and information.
"I was speaking out about an issue I feel passionate about," Haefer said.
Haefer's attorney, Stanley Cohen, told the Las Vegas Review-Journal in 2011 that the government should "be much more worried about people that are killing and assassinating people all over the world than [hacktivism]."
IS ANONYMOUS IN DECLINE?
In 2010, Anonymous was at the height of its notoriety, launching DDoS attacks through OpTunisia and OpEgypt on governments involved in the Arab Spring, as well as spearheading OpPayback. However, the cloud of fear around Anonymous as a player on the world stage has begun to dissipate as its Operations have become more disorganized and are now carried out at a more local level.
In the past year, Anonymous has defaced the Facebook page of the notoriously extreme Westboro Baptist Church and released the personal information of people allegedly involved in the high-profile Steubenville rape case.
Slootweg said he feels that some hacktivists became involved solely for media attention and are not open to constructive criticism. He also mentioned that many new members want to fulfill personal vendettas rather than achieve larger social good.
"It's basically impossible to accomplish anything with an [O]peration nowadays because you're overrun with idiots straight away, so I'm just waiting for Anon[ymous] to cool down and for all the script kiddies and egowhores to leave," Slootweg said.
Macbeth agreed that Anonymous has become a vehicle for people who want power and fame in the past two years.
"[After WikiLeaks and Arab Spring in 2011] all of these central people got arrested, and it kind of dissolved," Chen said. "They're just not as much of a global thing anymore."
Slootweg said he plans to continue running AnonNews, a site for Anonymous-related news, but will be less active on the central site for the organization of Ops, AnonOps, until he feels Anonymous will be productive again.
However, Chen said he believes that Anonymous could revive its influence in the future.
"I think it's in a quiet moment and maybe it'll come back, and it will depend on some cause, or something happening outside of Anonymous that they can latch on to," Chen said.
Even if Anonymous itself soon disbands, its methods will live on as inspiration to future hacktivists. Freedom as it exists now on the Internet is changing, displayed in the emergence of other hacktivist groups, such as the loosely organized Syrian Electronic Army (SEA) which attacked the Financial Times on Friday, May. 17, among many other recent high-profile hacks aimed at promoting the Syrian government's agenda.
Regardless of whether hacktivist groups ultimately cause more damage or more social good, Slootweg said the important thing to remember is that those who control access to the Internet now control global discourse.
"If there's anything I've learned in the past two and a half years, it's that whoever speaks first, is believed most widely," he said. "What someone says doesn't have to be true, as long as they're the first to speak."