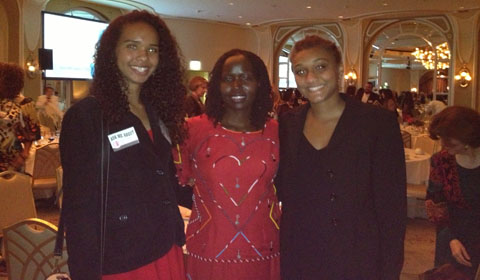 Human Rights Club President Vinnie '13 introduced girls education activist Kakenya Ntaiya at the Feminist Majority Foundation (FMF)'s Global Women's Rights Awards on Monday Apr. 22 at the Beverly Hills Hotel. FMF fights to achieve gender equality and reduce violence against women.
During the 2012-2013 school year, the Human Rights Club had been working with Girls Learn International (GLI), which is a program run by FMF that aims to educate and involve American students in the global push for girls education. Six students—Vinnie, Sloane '14, Ali '14, Jade '13, Siena '13 and Bailey '13—traveled to New York City with club advisor and History and Social Sciences Department Head Cathy Atwell in early March to participate in the Commission on the Status of Women, a commission of the United Nations Economic and Social Council. According to Atwell, the Marlborough girls impressed the organizers of GLI and FMF who were also at the conference. Kathy Spillar, one of the founders and leaders of FMF, contacted Atwell to see if some students would be willing to participate in the Global Women's Rights Awards ceremony, and Atwell suggested Vinnie.
Vinnie said she enjoyed meeting Ntaiya.
"It was kind of nerve-racking at first, but once I got up there it was fine. I really liked Kakenya Ntaiya. She's amazing," Vinnie said.
Atwell said she believed that Vinnie would be a good person to give the presentation because of the great leadership skills she has demonstrated this year in Human Rights Club.
"It's really hard to get up in front of a thousand people in a ballroom with your face up on the Jumbotron. She was very poised, very articulate, and she did a great job," Atwell said.
Although no other Marlborough girls participated in the awards presentation, Vinnie's fellow club members Jade and Siena attended the event along with Atwell.
Ntaiya was the first woman to leave her Kenyan village and attend college in the United States, having received a scholarship to Randolph-Macon Woman's College in Virginia. After graduating in 2004, she became an advocate for girls education and empowerment as the first youth advisor to the United Nations Population Fund. Since then, Ntaiya has traveled around the world to talk about the importance of girls' education. She specifically focuses on fighting the practices of female genital mutilation and child marriage.
Growing up, Ntaiya had to help her mother raise her younger siblings while her father lived in the city and only came home once a year. Ntaiya wanted to become a teacher to ensure that she did not end up like her mother.
"I knew that in order to become a teacher I had to go to high school and then go to college… It was a hard life for my mom, and I knew that I wanted my way out of that. Getting an education was my way of achieving what I wanted," Ntaiya told Kate Cummings, Advocacy Project Peace Fellow and a Vital Voices Field Correspondent in Kenya in 2009.
The goal of the Human Rights Club, which has about 12 members, is to provide a place for Marlborough students to meet to learn about and discuss human rights challenges around the world. This year the club has hosted many activities, including raising money at bake sales for Girl Learn International, inviting Ima Matul, a member of the Coalition to Abolish Slavery & Trafficking (CAST), to speak at an All-School Meeting about human trafficking and organizing a flag football game on International Day of the Girl.