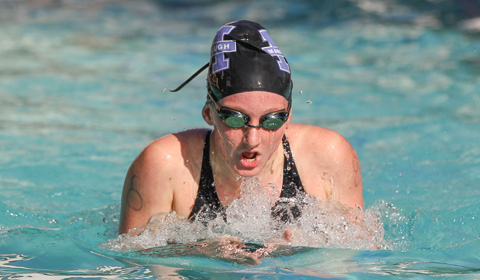 At CIF-SS Championships this year, Emily qualified for four events and broke two School records. She placed fourth in the 100-yard butterfly event and seventh in the 200 IM, and her relay teams placed seventh and ninth.
1. She's been swimming competitively for ten years. Her father, Peter Lambert, coaches both the Varsity Swim team and Emily's club team, Hancock Park Swim Club.
2. Her favorite swimmer is Nathan Adrian, who won two gold medals at the London Olympics this past summer.
3. She wears her lucky, amber-colored swim goggles every meet because she believes they make her swim faster.
4. Emily devotes 14 hours every week to swim practice.
5. Emily lost her lucky goggles before her last relay race at CIF and had to borrow some. The next day, she found the goggles in the jacket hood of Varsity Captain Jaylen '14.