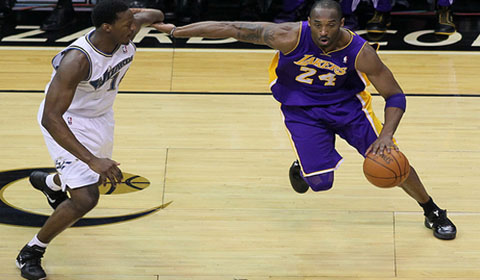 On Friday Apr. 12, Los Angeles Lakers forward Kobe Bryant tore his Achilles tendon in a game against the Golden State Warriors from Oakland, California, ending his season and possibly affecting his ability to play his strongest in the future.
This year Bryant surpassed Wilt Chamberlain, who played for the Lakers from 1968-1973, to become the fourth leading scorer in NBA history. Over the past 16 years, Bryant has led his team to five NBA championships and has won two gold medals for the United States Men's Basketball team at the Olympics.
Bryant has remained actively competitive throughout the 2012-2013 season: while his teammates Pau Gasol, Steve Nash and Metta World Peace (né Ronald William Artest, Jr.) have missed long stretches of game time due to injuries, Bryant has played through a sprained ankle and countless other afflictions.
However, this time is different. An MRI exam confirmed the day after his injury that Bryant's Achilles tendon is torn, which prevents him from playing for the rest of the season; he has no choice but to be out for six to nine months. What does this mean for Bryant's future? And because he is an older player, will his career ever be the same?
The 34-year-old has played an average of 38 minutes per game this season, more than any of his teammates and more than any other player over 30 in the NBA. Fans have complained through YouTube videos and blog posts that overplaying led to Bryant's injury, which happened while he was performing a simple move to the basket. However, Bryant's personal trainer, Tim Grover, said in an interview with the LA Daily News, "[Bryant's injury] had nothing to do with the number of minutes he had been playing, or anything of that sort. A torn Achilles tendon is a very freaky injury. It's just one of those things that just happened."
Bryant seems determined to come back even stronger. Barraged by comments from sports reporters and the public about his Achilles tear finishing him, Bryant told the Associated Press, "Obviously there have been a bunch of players that have had the same injury. All I can do is look at them see what they've done, and see who had more success coming back quicker and healthier. See what they did and try to improve on that."
Lakers fan and Varsity Basketball Player Lena '15 said she believes that Bryant will return healthy for next season. "Even though he is getting old for the game, because he's Kobe, he can come back and make a full recovery," she said.
Bryant is anything but normal: as an elite athlete, he has proved his mental determination and physical fortitude, constantly pushing himself beyond the standards of others. Even after tearing his Achilles tendon, Bryant was able to make two free throw shots and walk off the court himself without help from his trainers. By contrast, Miami Heat power forward Lebron James had to be carried of the court by his teammates after getting a leg cramps earlier this year in a game against the Celtics. Bryant seems focused on recovering and appears to be optimistic about his future, already out of his cast and starting physical therapy.
However, English instructor Joe Koetters said he believes Bryant will be "severely limited" when he returns next season. "It would be extraordinary for Kobe to play longer than this season. Nothing is wrong with playing beyond your peak, and for his sanity, he needs to," Koetters said. As he as indicated to the press, Bryant seems to want to play at the level he could before his injury, but Koetters, like many other fans, doesn't believe this is possible. "Kobe makes more than $15 million [annually] and has the support of fans to play longer, so it won't take away from his legacy if he plays beyond his peak."
Bryant's basketball career is not finished yet. He has nine months of recovery and training to work on coming back for next season. Many Lakers fans said they are hopeful for the future of the star basketball player, who has led their team to victory for so many years.