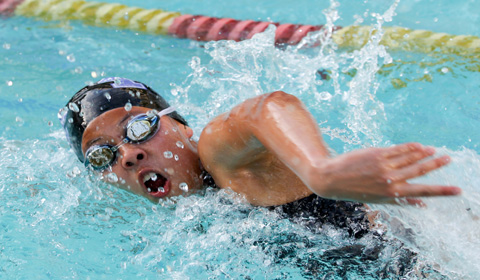 The Varsity Swim team emerged undefeated in the Sunshine League for the 2013 season, and eight Varsity swimmers qualified for the preliminaries of California Interscholastic Federation, Southern Section (CIF-SS) finals, held on May 8 at the Riverside Aquatics Complex in Riverside, California.
That day, Emily '15 swam the 100-yard butterfly event in 59.51 seconds, the first 50-yards of which took only 27.61 seconds, breaking the School records for both the 50 yard butterfly event and the 100-yard butterfly event. Emily placed fourth in the finals the next day with a time of 59.58 seconds, ranking higher in her event than any other Marlborough swimmer. Overall, the team placed eighth in its division.
The CIF-SS competition allows girls who are faster than a certain time in an event to compete statewide. Teams that win the CIF-SS championship title, as Marlborough did in 2010, are moved up to a more competitive division; the Mustangs currently compete in Division III, compared to our less competitive Division IV rivals in the Sunshine League.
According to Coach Peter Lambert, the Immaculate Heart High School meet on Mar. 14 was the most challenging of the season and the only one that posed a threat to the team's ultimately undefeated status.
"Truthfully, I was expecting Immaculate Heart to be stronger than us," he said. "I knew it was going to be close, but I didn't think that we'd actually win that one."
The Varsity Swim team huddled together at their second swim meet of the season at Immaculate Heart. The mood was tense: the team had dominated in the relays but the girls were unsure of whether these points would be enough to win.
"It was a little nervous energy and a good five minutes of chaos, but we controlled and we calmed down and we swam the way we were supposed to swim to win," Captain Jaylen '14 said.
That meet proved to be an added difficulty for the swimmers because it took place right after the end of Marlborough's two-week spring break.
Immaculate Heart took only one week off for spring break, meaning that their girls didn't travel as much and had more time to practice. However, over the vacation Marlborough's team scheduled morning and afternoon practices on Mondays, Wednesdays and Fridays, with long practices on Tuesdays and Thursdays. About a third of the girls were missing at each practice, including the tenth graders who attended College Tour on the east coast but worked out on their trip.
Jaylen stressed the importance of the team's diligence and consistency in attending practice.
"This is my favorite team I've been a part of in Marlborough swimming. I'm very proud of what we've accomplished this year and I hope we can go further with great success," she said.