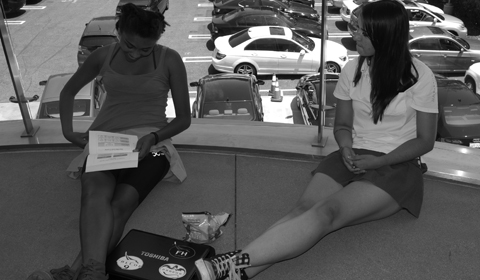 We at The UltraViolet believe that Marlborough should follow in the steps of such schools as Loyola High School and create a special program for second-semester seniors, wherein girls spend a number of School days or weeks working on an off-campus project, which may involve some form of community service or career-oriented professional training.
As outlined in an editorial in the previous issue of The UltraViolet, our staff believes that the "Seniors Finishing Strong" initiative is not realistic. Seniors continued to skip School before the APs this year, regardless of the elimination of the 24-hour rule. Furthermore, teachers of seniors cancelled a majority of classes in the last few weeks.
Instead of forcing seniors and teachers alike to slog through this ceremonial drudgery, we propose that if the School wishes its seniors to truly "finish strong," the students should redirect their energy towards one greater project, which would require a definite structure and detailed goals, instead of dragging themselves from one class to another. Allowing students to study or work in areas they are deeply interested in could also be beneficial for girls who are currently undecided about a future career path. Senioritis would decrease, and community participation would increase. The academic aspect of such a program could be heightened by some form of final project or presentation, which would require the student to demonstrate what she had learned.
At Loyola High School, students are required to complete an 85-hour (three week) immersive community service project. Although Marlborough does not aim to grow good Christians, as Loyola does, the product of such a program would be similar: seniors who are once again interested in their work. In Marlborough's case, girls might work at a hospital, where they could shadow a neurosurgeon during a complex operation, or a soup kitchen, where girls could learn cooking skills and the myriad organizational details of running an efficient non-profit.
We encourage Marlborough to reconsider its archaic rules for Quarter Four seniors and try to keep Violets engaged and thoughtful by implementing a special, off-campus program for second-semester seniors.