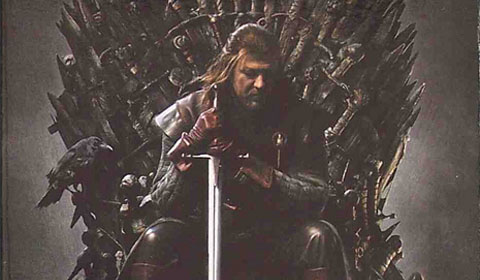 "When you play the Game of Thrones you win or you die. There is no middle ground."
If you're not already hooked on the best HBO show ever, you should be. Game of Thrones, based on the best-selling book series, A Song of Ice and Fire by George R. R. Martin, is set in an alternate version of medieval Earth where the Sun is at the center of the planet.
Wait! Before you start thinking to yourself, "Ugh, I don't like fantasy!" let me stop you. The fantastical elements of the show are so seamlessly integrated into reality that you don't even register that you're watching fantasy. It's like Harry Potter: you completely buy into the flawless fictional world.
If you think you won't like watching people get dismembered, you're wrong. If you think dragons are a snooze cruise, you're wrong. Everything I thought would detract from my GoT experience is in fact what has made me love it.  And don't even get me started on the characters. Honestly, Khaleesi Daenerys is the strongest, badassest biznitch since Beyonce, and anyone who doesn't love Jon Snow has no soul.
I am not asking you to watch Game of Thrones. I am telling you that, for your health, you should. Now, go binge-watch the first and second seasons on Netflix or HBO so that you can catch up on season three before it ends.