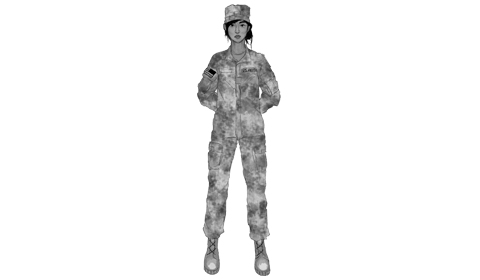 By: Sophie '13 and Remy '14
Anne Stephens stands in a winding security checkpoint line outside of the US Department of Veteran Affairs' (DVA) LA Regional Office, careful not to jostle her fellow veterans—many of whom are, like Stephens, homeless. She has been waiting quietly for 40 minutes outside of the building's entrance on Wilshire Blvd. to receive medical attention, and soon becomes fatigued, as a result of her Type 2 diabetes, which she developed as a result of the stress of serving in the Iraq War.
Stephens filed for federal vouchers to pay for her housing almost a year ago through the VA Supportive Housing Program (HUD-VASH), which allows veterans to live in market-rate, rental housing, yet her claim was turned down without any justification.
Homeless, Stephens now sits in limbo.
"The Department's like an iron curtain that's hard to penetrate," she said.
As a result of years of service to their country, veterans are entitled to collect certain benefits, including pensions, health benefits and housing, according to Title 38 of the US Federal Code. However, the recent rise in homelessness amongst veterans of the Afghanistan and Iraq wars leaves many people questioning the government's ability to effectively care for our nations' most dedicated public servants.
Female veterans constitute the fastest-growing segment of the homeless population, and stories such as Stephens' are increasingly common, particularly in California, which is home to a quarter of America's homeless veterans. Of the 141,000 veterans nationwide who spent at least one night in a shelter in 2011, nearly ten percent were women, up from 7.5% in 2009, according to a December 2012 report by the Governmental Accountability Office (GAO).
But why does homelessness affect female veterans disproportionately? Experts point to the fact that women in the military often experience trauma that men rarely have to face: specifically, military sexual trauma (MST), in which veterans suffer psychological trauma from rape or threats of retaliation for refusing to engage in unwanted sexual activities with their fellow service members or enemy combatants.
Though President Obama affirmed in his Feb. 12 State of the Union address that his Administration "supports military families, giving our veterans the benefits, education and job opportunities that they have earned," female veterans who return to civilian life after being sexually harassed or assaulted face a lack of support networks. Those who are single parents encounter housing discrimination, as most transitional housing programs refuse to accept children.
As women now comprise 14% of active-duty forces and 18% of the Army National Guard and the Reserves—a greater percentage of the military than ever before—how should the armed forces adjust to better support service members of both genders? What more should the federal government and the military do to ensure female veterans make a safe and smooth transition from the battlefield to a productive life at home?
WHY ARE THERE SO MANY HOMELESS VETERANS?
In 2009, Obama and VA Secretary Eric K. Shinseki announced the goal of ending veteran homelessness by the end of 2015. However, veterans continue to make up a disproportionate percentage of the homeless population and, on average, stay homeless longer than non-veterans.
According to the Center for American Progress, veterans comprise nine percent of the total population but make up more than 15% of the homeless population and are 50% more likely than non-veterans to become homeless. On average, veterans remain homeless for 5.7 years, while homeless, non-veterans reported that they stay homeless for 3.9 years, according to a 2011 national survey by the 100,000 Homes Campaign, an advocacy group.
Jillian Pierce, a 65-year-old Vietnam War veteran, has lived in the drug and alcohol-free housing facility of U.S. VETS-Los Angeles—a non-profit provider of comprehensive services to homeless and at-risk veterans—in Inglewood, CA since 2006. The residence serves 540 veterans daily.
Pierce said that many of her friends at U.S. VETS-Los Angeles sought out the housing facility as a permanent living situation rather than as the affordable, temporary housing option it was intended to be.
"[The housing facility] isn't a last resort; it's our only option," Pierce said.
Homeless veterans are commonly unemployed due to mental illnesses such as post-traumatic stress disorder (PTSD), a severe anxiety condition that can develop after a traumatic event like war or sexual assault. Prolonged depression, a characteristic of PTSD, can make it difficult for veterans to build and maintain relationships and to hold down a job, raising the risk of homelessness.
Furthermore, state licensing laws and the military fail to document the skills and experiences of combat medics, which hinders them in the job market.
Army Specialist Daniel Hutchinson, an Iraq War veteran, said that he was forced to abandon his dream of becoming a paramedic because he couldn't afford to participate in the unpaid, mandatory job training, according to a Sept. 11 article in Bloomberg, a business and financial news blog.
"It seemed like any medical profession that I wanted to get into required at least a year of training to learn stuff that I had already done and trained other soldiers to do," Hutchinson said.
ASSAULT CRISIS
According to a number of experts in the military psychology field, experiences of sexual assault and harassment remain the most common cause of homelessness for female veterans.
According to the National Center for PTSD, female survivors of MST cope with depression, insomnia and substance abuse. Such symptoms leave victims unable to work. Unemployed, these female veterans have no reliable source of income, resulting in poverty and, in some cases, homelessness.
The Defense Department estimates that 19,000 sexual assaults occur in the military each year. However, Jessica Landry, an advocate at Military Veterans, an organization established to improve the lives of US veterans, said that a far higher prevalence of sexual misconduct occurs against women in war zones than is reflected by complaints gathered by the service branches of the US military.
"Women are now put in greater contact [with enemy combatants] than ever before, often assuming dangerous positions on the front lines of battle. As a result, now you have about half of women sent to these places reporting being sexually harassed [by military men, civilians or enemy soldiers] and nearly one in four saying they were sexually assaulted," Landry said.
School Counselor Emily Vaughn—who, in her private practice, has provided therapeutic services to many women who have endured sexual harassment—said these assaults often go under-reported due to a military culture that institutionalizes a credo of unshakable loyalty. Vaughn said that servicewomen worry that speaking out might undermine the cohesion of the units.
"What if you feel that if you 'told,' if you reported MST, the others would not be there to protect you? Or if they said that you brought it on yourself?" Vaughn said. "You would be unable to process the event in a safe environment."
Moreover, Landry said that officials refuse to recognize service womens' MST claims because the officials fear reprisals from their superiors.
"There's a lot of denial, particularly amongst the high-ranking men," Landry said.
Aaron Glantz, author of The War Comes Home, told KCRW on Mar. 19 that female veterans with MST may apply for disability compensation through the Department of Veterans Affairs (DVA) in order to receive a monthly check because of their injuries.
"The wait to get benefits in Southern California is almost two years, and the average wait for a mental health appointment is 50 days," Glantz said. "That's a significant period of time for someone whose brain was blown up, has traumatic brain injury from a roadside bomb or [has] PTSD."
Pierce agreed.
"The government, the VA, chooses to ignore me and my needs," she said. "Tyranny!" she cried.
Glantz said that the Obama Administration has "failed miserably" in terms of helping veterans readjust to society.
"The [VA] Office promised [in February 2012] to hire 16,000 new, mental health advisors to help these returning vets," Glantz told KCRW. "But, last month, the Inspector General reported that the VA had hired more bureaucrats than it said it would, and it hired only half of the psychiatrists than it had been budgeted for."
HOUSING DISCRIMINATION
Female veterans are more likely than males to raise a child on their own, making it harder to readjust to civilian life. According to a 2011 report by the GAO, 11% of service women are single mothers as opposed to 4% of males. However, more than 60% of transitional housing programs receiving grants from the DVA do not accept children or, if they do, restrict their age and number, leaving many female veterans out in the cold.
Michele Mathis—a 30 year-old single mother of three who served as a chemical specialist in Iraq—said in a Feb. 27 article in the New York Times that her family moved seven times within eight years between DVA-sponsored housing facilities, mostly due to age restrictions on her children. According to a 2003 report by the The National Institute for Trauma and Loss in Children, frequent moving, such as in Mathis' case, can serve as one of the most disruptive events in a child's psychological development.
In response, Senator Patty Murray (D-WA) brought the Homeless Women Veterans and Homeless Veterans With Children Act (S.1237)—a bill that would expand assistance for homeless veterans with children by increasing funding—to the Senate floor on Jun. 29, 2010. However, Senate Republicans blocked the measure.