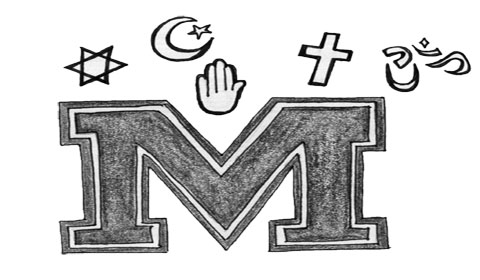 By Ana '15 and Sarane '15.
Ashna '14 was sitting in her English 8 class when the discussion took an unexpected turn. Her substitute teacher, a fellow Muslim, led the class in conversation about religious discrimination against Muslims, asking Ashna and a few of her Muslim classmates directly to share their opinions. Ashna felt confused and uncomfortable with how she was being singled out. The teacher was very passionate about the subject, but Ashna was young and had never experienced discrimination herself, leading to an uneasy classroom environment.
Ashna's experience is important because it is an outlier: religious beliefs and practices rarely come up in conversation in Marlborough classrooms or among students, which perhaps explains why, when they do, few girls feel comfortable.
According to Archivist Peter Chinnici, the School was originally called St. Margaret's and was loosely associated with the Episcopal Church, because founder Mary Caswell was Episcopalian. Until the late 1970s, the predominantly Protestant Violets attended Chapel, an all-school gathering where inspirational texts might be read or the Honor Code discussed. But in the past forty years, the religious diversity of the student body has increased enormously.
It is an unspoken agreement on campus that trust in the Marlborough community, especially when dealing with deeply personal beliefs, is necessary for the intelligent and forward-thinking conversations that the School prides itself on to take place. However, almost every girl interviewed said that they almost never discuss religion on campus with teachers or friends.
Many girls said they feel incapable of or uncomfortable about holding an intelligent conversation about others' beliefs, but few agree about whether it is the School's responsibility to facilitate such discussions. Do students feel a social stigma prevents them from discussing their faith, or do girls simply not feel the need to incorporate their religious life into their School life? Is it appropriate for a teacher to refer to a specific student's religious beliefs in class, or does singling a girl out to speak for her beliefs cross boundaries and make assumptions? As a secular school, should we continue to emphasize religion as a private aspect of family life rather than a matter for debate and discussion among friends, or is an honest exchange about faith a necessary part of any community?
NO RELIGIOUS DIALOUGE
According to Co-Chairs of the Diversity Committee English instructor Chris Thompson and performing arts instructor Mpambo Wina, the theme for the 2012-2013 school year is "Getting Past Awkward"; however, Marlborough girls have a hard time overcoming social and psychological barriers to talk about their religious views openly.
As an Ethiopian Orthodox Christian, Maramawit '14 said she feels that most Marlborough girls are comfortable talking about their experience with religion only when they are relevant to what students are learning in class.
"I feel like my thoughts are accepted not as a religion but more as an idea, and when it has to do with religion it is perceived as being a theory rather than being a fact," she said.
Most girls said they do not discuss religion outside of the classroom because Marlborough's diverse community makes it difficult to feel confident addressing the preponderance of unfamiliar beliefs. Ashley '13, who is Catholic, encouraged Marlborough to educate students more about different religions.
"I don't feel like I am educated enough to participate in a conversation without sounding ignorant, and I might say something that I am completely unaware of, so I don't feel like I have enough knowledge to say something meaningful," Ashley said.
Sasha '15, who is Jewish, agreed that Marlborough should make a greater effort to encourage awareness of different religions. "It is important to understand that you aren't the only one out there," Sasha explained.
Even girls who said they believe they can carry on a conversation about religion without feeling ignorant said they were worried that openly discussing their faith could lead to an awkward encounter. Sasha said she knows that if she shares her opinion on a religious subject someone else might have conflicting beliefs, leading to discomfort or, at worst, an argument.
However, Rachel  '14, who is Jewish, said she is confident that intelligent and polite conversations about religion can take place at School.
"Even though people may disagree, they are very respectful of each other," Rachel said.
Indeed, Ashley agreed that Marlborough girls tend to be very accepting, but there is always that chance that someone could get offended if the wrong thing is said or an assumption is made.
Furthermore, Sabrina '14, who is an atheist, said that the fact that the School itself is secular makes any overt display of faith uncomfortable.
"I know a lot of Islamic students have to pray five times a day, but if you are in the middle of class you can't get down on the floor and face Mecca," Sabrina said.
GOD IN THE CLASSROOM?
In the classroom, questions of God, morality and existence often come up in relation to the material being studied. Lectures and discussions can thus prove informative for girls uneducated about certain doctrines, beliefs or sects; however, some students said they have felt uncomfortable in the past when teachers have made assumptions about their religious life.
History and social sciences instructor John "Doc" Langdon said he thinks that religion can be discussed in the classroom, as long as students and teachers talk about it from an objective point of view.
"The meaning of history is… to try and understand points of view that aren't the same as yours. That is what history does by tackling religion or any institution head-on," Langdon said.
Many girls said they feel most English and history and social sciences teachers keep references to religion relevant to the literature or historical movement being discussed, but every now and then a reference to a student's views, background or experience can cause tension in the classroom. Lurie recounted a time when one of her teachers mentioned a student's religion in class.
"We were talking about terrorism and the teacher kind of made a reference to someone [in the class] who was Muslim," she said. "People noticed and were just surprised because that isn't usually something that would be mentioned."
Sabrina agrees that it is a little embarrassing when a teacher singles someone out.
"[They are] usually so accepting about [religion] but don't realize that they might make a joke that other people aren't okay with," Sabrina said.
Nearly all students interviewed said they feel comfortable discussing religion in the classroom when it is applicable to the lesson plan; however, some girls expressed concern that the continued prevalence of religious prejudice in society as a whole makes it difficult to laugh at jokes about faith. "Your teacher is someone you are supposed to respect, but if they aren't respecting you that isn't a good relationship," Sabrina said.
Both students and teachers agree, however, that it can be helpful to have a student that has a certain religious background contributing to a class discussion when trying to decipher religiously inspired texts. English instructor David Long said he has had students willingly share information about their religion to help the rest of the class comprehend certain poems or novels.
"Students will look to a person who they know is Catholic and ask them questions about a particular concept or belief, and it leads to opportunities for more student interaction," Long explained.
FAITH FOR A NEW GENERATION
Many Marlborough girls belong to religious organizations and celebrate faith-based holidays and ceremonies, but worship for the students of 2013 is quite different from that of teens of a hundred years ago.
In the past century, an increasing number of Americans between the ages of 12 and 25 have begun to identify as agnostic or spiritual rather than as members of a specific religious organization, such as Catholicism, Protestantism, Judaism, Islam or Buddhism. According to Harvard University professor and political scientist Robert Putnam's book American Grace, between 30 and 40 percent of American youth have no religious affiliation. Many of the students interviewed say they feel ambiguous about their faith but stay active in their religious communities because of pressure from their parents.
Jameson Smith assists in teaching a Confirmation class that includes six Marlborough students at St. Brendan Church, a few blocks from campus. Smith said that many of his Confirmation students attend class because of their parents' wishes, not because of their own piety.
"I have talked to some [students], and they feel like they are forced to do it," he said.
However, many of the girls who said they only attend religious events and classes at the behest of their parents admitted that they do value the community provided by their religious institutions. Pilar '15, for example, said she is only participating in Confirmation class at St. Brendan to please her mother but still feels a connection to the Catholic Church.
"If someone asks, I was raised Catholic, but I don't know what I am," she said. "I don't believe in the God that I was raised with, the God that's in the Bible and that they talk about in Church."
Beatrix  '16 agreed, saying that even though she is reluctant to go to church because she questions Christian beliefs, she still participates in church events.
"I'm not sure that I agree with [all Christian views], but I do observe Christian holidays," she explained.
Religious students often said that their families held the greatest influence over their participation in faith-based activities, but there are still exceptions. Mary-Helen '15, who is Mormon, attends services alone and only has two extended family members who remain in the Mormon Church.
Other girls, such as Victoria '15, are more active in their religious communities than in their personal spirituality.
"I think I'm more religious in the sense that I try to connect with my religious community… I'm skeptical, but I try to throw myself into it," she said. Victoria recently completed over 100 hours of volunteer work at her church through service projects that included handing out sandwiches on Skid Row and tutoring children.
And even those students who say they believe in the morals and tenets taught by their religion don't necessarily support traditional religious organizations. Ashna explained that she prefers to pray at home because it is convenient and more intimate.
"We're not really practicing Muslims; we don't go to mosque," she said. "[But] religion is a big part of my life."