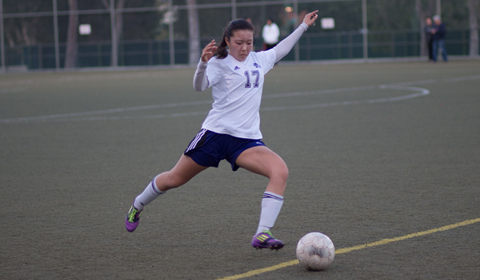 The Varsity Soccer team lines up, preparing to square off against its opponent, the soccer players of Beverly Hills High School. The girls take their positions, but instead of wearing their usual white jerseys, they sport orange t-shirts with MS printed on the backs, for multiple sclerosis, because the team is playing not for victory but for philanthropy.
In addition to winning three games out of eight in the Sunshine League and ten out of seventeen games out of league, the Varsity Soccer team took the time this season to participate in a charity match on Saturday Jan. 12 at Beverly Hills High School in an effort to raise money for the National Multiple Sclerosis Society and the Concern Foundation for Cancer Research. The latter charity was chosen specially by the Beverly Hills team because one of their coaches passed away from cancer last October
This year was the first time Marlborough took part in this event, although Beverly Hills High School has been hosting fundraisers of this sort since 2010. However, Varsity Soccer coach Jeff Blumkin noted it will certainly not be the last year.
"This event is something we're going to stick with," he said. He also added that in the future he would like to see other sports, such as water polo or basketball, incorporated into the event.
Many of the soccer players and coaches said they found value in playing for reasons other than winning.
"We put a greater cause out there for the girls…[and] it was a great experience," Blumkin said.
The players wore shirts promoting the charities and watched as Beverly Hills High School cheerleaders performed a dance during the halftime show. Though Marlborough and Beverly Hills tied, Varsity Soccer co-captain Marlyse '13 said she still thought the event was a worthwhile experience.
"Our coach really wants us to get involved with other schools," Marlyse said, "and this was an opportunity for a good cause."
After winning a wild card game to secure a space in the California Interscholastic Federation Southern Section (CIF-SS) playoffs, Varsity Soccer ended their season when they lost in the first round to Quartz Hill High School. However, the team improved markedly this season over last year, winning 58% of games in the 2012-2013 school year in contrast to 39% in the 2011-2012 school year.