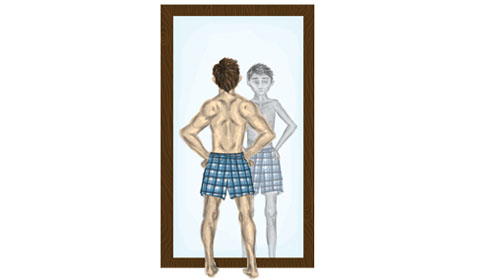 By: Caroline '13 and Maya '14
A teenage male wrestler nervously watched the scale before the match that would allow him to advance to California Interscholastic Federation (CIF) finals. All season his coach had demanded he throw up before he was weighed in and then gorge on food before he actually competed. To give the boy a physical advantage, the coach wanted him to qualify for a lower weight class, as wrestlers are supposed to be matched with competitors of the same size.
At first, the wrestler felt uneasy about throwing up before every match, but his coach convinced him it wasn't a big deal, since each weight class is only separated by five pounds; as a result, throwing up became the boy's habit. Before he knew it, the qualifying match was over and the wrestler had lost. Maybe his coach was wrong after all, he thought.
According to the Austin Foundation for Eating Disorders, "more American men have eating disorders than prostate cancer." The National Association of Anorexia Nervosa and Associated Disorders, Inc. (ANAD) found in a 1997 report that 10 to 15% of those with anorexia and bulimia are male.
And yet our society seems to ignore these cases and their causes, focusing resources and attention on women and girls. eMedTV, a health website, reported in 2009 that many healthcare professionals and doctors do not even have sufficient training to treat male eating disorders.
Most teenage boys downplay the importance of eating disorders in the male community, simply because they are less common than eating disorders among females. All seven of the boys interviewed for this article said they think that the few male eating disorder cases that do arise, such as that of the wrestler, come from athletic pressure or the desire to impress girls. However, doctors argue that disordered eating stems from an inability to express emotions, regardless of the patient's gender.
Furthermore, since boys tend to not believe eating disorders do not affect them, many do not come forward about body image issues, perpetuating the stereotype that men do not experience eating disorders.
Coaches and doctors alike are aware that participating in sports such as wrestling exacerbate or cause eating disorders in men, so why do many adults who work with teenage boys ignore this issue?

ARE SPORTS THE SOURCE?
Although participating in sports increases the likelihood of a boy developing an eating disorder, athletes and coaches disagree whether by the pressure of the sport itself or the pressure from peers and parents is to blame.
Many studies, including those from ANAD, show that men who participate in sports share many characteristics, such as perfectionism and competitiveness, with men who suffer from eating disorders. Moreover, boys who participate in sports that emphasize or monitor an athlete's size and weight, such as wrestling, football and lightweight rowing, are more likely to develop an eating disorder, according to the Austin Foundation for Eating Disorders.
Crespi Carmelite High School wrestling coach Mike Odman said that his school increasingly addresses eating disorders within the sport of wrestling, and that Crespi's program highly discourages anorexic or bulimic behavior. Still, Odman admits that eating disorders remain an issue: although coaches and CIF officially discourage it, some wrestlers will secretly either starve themselves or vomit before they weigh in for each match, eating large amounts of food afterwards before they wrestle anyone. Odman also said that this method, contrary to popular belief, is inefficient and can lead to binging and purging outside of wrestling matches as well.
"The old school philosophy is that if you are in a lower weight class, you will do better physically, but that's actually not the case," Odman said, "When [wrestlers] do cut down [on food intake to lose weight], they don't perform as well."
Harvard-Westlake School junior James* agreed that excessive or restrictive eating does not always improve performance.
"Even though some kids want to look like a Greek statue, [athletic success is] just about talent," James said.
But weight pressures do not exist in all sports. For example, Loyola High School sophomore Micah Shanks said that his baseball coaches encourage healthy behavior and that he has never felt pressure to watch his weight in order to succeed in baseball.
"They don't tell us anything about diet. I think that they want us eating healthy and getting rest and stuff, but they don't give us specific diets to follow," Shanks said.
Campbell Hall sophomore Erick said he thinks eating disorders are more common in athletes not because of the pressure of the physical requirements of the sport itself but because of the inclination to compare oneself physically to other boys when practicing together or changing in the locker room.
"Being on sports teams give guys a better idea as to whether they look better than [other guys] or if they're more athletic because they have other people to compare it to all the time," Erick said.
Eating disorders can also develop from pressure that parents put on their children to excel at the sport, according to Odman.
"We had a couple crazy parents who wanted kids to cut down and wrestle at lower weight," Odman said. "It ruined their experience."
WEIGHING GENDER BIASES
Many people make the sexist and heteronormative assumption that women suffer more from eating disorders because females are unable to properly express their emotions and want to assert control when they have none, while men only develop eating disorders because they want to look attractive for girls.
However, men with eating disorders often develop them for the same reasons as women.
A number of boys from a cross section of independent schools in Los Angeles agreed that many boys want to look like the models and actors that girls admire.
Harvard-Westlake junior Alex said that he felt most body image issues stem from self-consciousness.
"Most people that have a disorder, [it's] due to insecurities. When guys aren't sexually active they want to improve that by looking better," Alex said.
Crossroads School senior Jordan agreed, saying that "looking better" for most men means working out. Jordan said he believes the eating disorders he's seen among his peers center around anorexia athletica, which involves the compulsive need to exercise.
"In order for a guy to reach the ideal image, they work out more. Even guys in modeling ads look healthy and have muscles. For girls, they're all so skinny and have an obsession with not eating," Jordan said.
However, Brooke Hailey, Director of the New Directions Eating Disorders Center in Sherman Oaks, disagreed with the idea that men and women have different motivations for starving themselves or throwing up their meals, and said that a lack of awareness of these similarities causes more cases of male eating disorders.
"I do think people need to be more aware of [the way emotions can affect boys' body image]. " Hailey said.
ARE WE AWARE?
Despite evidence to the contrary, many boys dismiss the significance of male eating disorders and insist they do not experience the same emotions surrounding eating disorders and body image that women do.
According to an ANAD online report called, "Eating Disorders Statistics," men do not seek medical attention for body image issues because they refuse to believe it affects them. Because men believe eating disorders only afflict women, they do not seek medical help, according to the Austin Foundation for Eating Disorders.
Hailey agreed, explaining that the fact that it is less socially acceptable for boys to express their emotions openly causes cultural misunderstanding about men and eating disorders.
"People do not realize that [social or athletic pressure to be fit] could affect a male in their self esteem. I have two males in my practice right now who were overweight as kids, and teased for it, told by their parents they were overweight, and they suffer from eating disorders now," Hailey said.
Hailey mostly treats women suffering from anorexia and bulimia at her practice, but she views male eating disorders as a serious problem, despite a lack of public awareness. Popular shows marketed to teens such as Skins, Degrassi, and Make it or Break it often portray girls with eating disorders, but no comparable shows portray boys with eating disorders.
Erick said that he thinks boys deal with the emotional issues surrounding eating disorders differently than girls would because it is more socially acceptable for girls to express their emotions.
"When guys have issues with their bodies, they're usually quiet about it," Erick said. "They don't share with other guys."