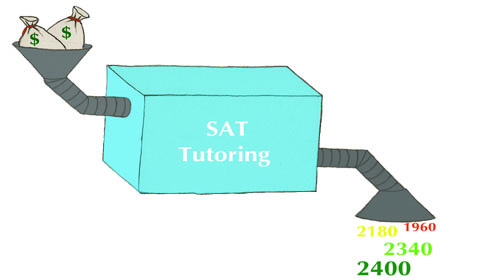 By: Christina '14 and Caroline '14
On the morning of Mar. 12, 2011, thousands of students were baffled to find that their SAT essay prompt, the score of which affected their overall test results and therefore their chances of getting into college, asked them to evaluate the effectiveness of reality TV.
Many of these high school juniors and seniors were offended that the College Board, the organization responsible for developing the SAT, assumed that every student taking the standardized test would have a TV or enough knowledge of reality television to form an opinion on its place in society.
One student told the New York Daily News, "I guess the kids who watch crap TV did well."
The College Board claimed that test takers were given all the information necessary to answer the prompt.
Every year, approximately 1.5 million students perch in uncomfortable desks, pull out their Number 2 pencils, and frantically bubble in answers to the SAT, the infamous standardized test that comprises a portion of college applications.
The controversy over the essay prompt illustrates a broader dispute surrounding the SAT's fairness and its accuracy in assessing intelligence or college readiness. Although the College Board website reports that the test is equitable for all students, financial disparity often appears to correspond with score disparity, raising concern among students and administrators that low-income students do not have an equal opportunity to succeed on standardized tests. In addition, some studies have shown that the structure of the SAT puts women and other minorities at a disadvantage.
Because the SAT is such an important factor in the college admissions process, any bias would damage a significant portion of test takers' chance to access higher education. So what factors really contribute to a high score on the exam?
Many critics assert that even among students who fit the demographic that the SAT supposedly favors, the test is not an accurate assessment of intelligence or of college readiness but rather a demonstration of how well students can take standardized tests. If so, why do high school students still take the SAT?
Affluent Advantage
Many education professionals are concerned that students' SAT scores can be drastically skewed by their financial means. Economic stability enables students to afford expensive test-prep tutoring and tuition at independent schools, potentially giving them an advantage over students without those opportunities.
Kate Levin, the Communications Coordinator for the College Board, said in an e-mail that the SAT has been "consistently shown to be a fair and valid predictor of first-year college success for all students, regardless of gender, race, or socio-economic status."
However, Arun Ponnusamy, the former Assistant Director of Admissions at the University of Chicago and the California Institute of Technology, and partner and College Counselor at Collegewise, a private college counseling company in Los Angeles, disagrees: "The test overwhelmingly favors kids with money," he said.
SAT Prep programs, private companies that teach students how to perform well on the SAT through group tutoring or one-on-one sessions, often promise to boost the scores of participants. Kaplan, which provides academic counseling and SAT preparatory programs, proclaims on their website: "Higher SAT scores guaranteed, or your money back." Although College Board spokesperson Levin said in an e-mail that a study by the National Association for College Admission Counseling (NACAC) reported that "test prep courses had minimal impact in improving SAT scores," test prep programs such as the Elite Educational Institute feature testimonials about scores jumping by 500 points, and a list of Elite students who have gotten 2400s on its website.
SAT tutoring is often expensive, and a private tutor from Princeton Review can cost up to $7,200 for 24 hours worth of lessons.
"The amount of money that your parents would have spent on tutoring for the SAT, some of my [East LA students'] parents wouldn't make in a year," Ponnusamy said.
Robert Schaeffer, the Public Education Director of the National Center for Fair & Open Testing (FairTest), echoed Ponnusamy's concerns that students without access to tutoring have less of an opportunity to succeed on standardized tests, damaging their chances of college admission.
Some public schools, such as Carson Senior High School, offer free SAT classes. Elite has a volunteer program in which tutors work for free in underprivileged schools to help prepare students for the SAT, and according to Associate Director of College Counseling Monica DePriest, Marlborough helps students financially so that they can access test prep.
But are tutors and test prep classes the only factors contributing to SAT success? Critics of the SAT feel that economic advantages affect performance because of differences in environment, not just because of access to test prep.
"The SAT and ACT are very good measures of accumulated advantage. They tell you very well which kids have had opportunities going back before they were born," Schaeffer said.
Levin said in an e-mail that the College Board acknowledges the "disparity in the average SAT scores of some underprivileged students" but attributed this to "the unfortunate reality that significant inequities exist in the quality of education across the United States."
Is it possible, then, that economic inequality goes beyond the SAT and pervades all levels of the college admissions process?
Is This Fair?
Although most Marlborough girls believe that the SAT simply measures aptitude, some students and educational professionals feel that the wording, content and nature of the SAT favors well-off, English-speaking male Caucasians.
Most students at independent schools like ours do not consider the SAT to be biased.
"If you are smart, you can get a high score. If you are not smart, [your SAT score] will show that," Lauren '13 said.
But Schaeffer said he believes the test's questions do not provide equal opportunity for success.
"Independent research shows that [the SAT is] biased against females, against teenagers whose home language is not English, against students who have been out of school for more than half a dozen years. Why would you use an exam that's biased against more than half of the test taking population?" he asked.
However Levin argued in an e-mail that there is substantial evidence proving that individual question bias is being blown out of proportion. She said that the College Board has put effort into developing test questions that are fair to all students.
Many critics cite the SAT's gender bias against females as one of its biggest flaws, which attributes to the test's "guessing" component. Because test takers are penalized for wrong answers, students are encouraged to leave answers blank if they do not feel confident in their answer. According to the website of Schaeffer's nonprofit, FairTest, "males are more likely to take risks on the test and guess when they do not know the answer, whereas females tend to answer the question only if they are sure they are correct." Since guessing often pays off, this leads to a considerable gap between female and male performance on the test.
Lisa Liberati, a Princeton Review Tutor, agreed that female intelligence is not accurately represented by the test. "Girls do dramatically better in their high school courses than boys. And yet their SAT scores are worse," she said.
Ponnusamy also asserted that the test's questions can be unfair to students who have less experience in the world with a given topic, suggesting that even reading passages could be unintentionally unfair.
"If the word 'yacht' is used in a passage, a kid who grows up in Marina Del Rey knows what that is, but a kid who grows up in the middle of Oklahoma is like, 'What the heck is a yacht?'" he said.
Signaling Success?
Although an applicant's test score alone does not determine whether he or she is accepted to a university, some worry that the SAT does not accurately predict a student's future success and even encourages strategies that will be harmful later in life.
Ponnusamy said that although the SAT does not necessarily determine an applicant's fate, "most colleges and universities don't train the young admissions officers, who are the ones that do the bulk of the [application] reading, on how exactly the SATs are constructed and how to go about using [it] effectively to make decisions."
However, Levin said that college admissions officers should be using students' SAT scores as a "fair national benchmark" to level the playing field across all high school students.
Yet members of the education industry are adamant that standardized tests are not accurate in predicting the level of success a student will have in college and beyond.
"There are plenty of slow readers who wouldn't be able to get through a reading section of the SAT who would do perfectly fine in a college level literature course," Ponnusamy said.
Schaeffer concurred, arguing that there are much more accurate ways to estimate a student's ability to do well in college.
"As a tool to predict college performance, even the test makers admit that high school grades are a better predictor," he said.
But Levin cited last year's NACAC Report of the Commission on the Use of Standardized Tests in Undergraduate Admission as proof that there is little discrepancy between a student's high school grade point average and her SAT score.
Furthermore, Schaeffer argues that studying for the SAT actually teaches students bad habits such as not reading directions that could hurt academic performance later in life. Tutors often tell students to forget challenging questions and focus on the easy ones; though it would most likely be beneficial to do this on the SAT, Schaeffer said this mindset will ultimately be harmful in college and beyond.
Audrey '14 disagreed, saying that she understands most of the strategies she learned during test prep only apply to the SAT and that she did learn valuable grammar information that she now uses in English class.
Furthermore, Schaeffer said that because scores do not always reflect academic success, taking the SAT can be unnecessarily damaging to students' self-esteem.
"Students who do very well in the classroom and not so well on the SAT internalize their results and believe they are their SAT score. It reduces aspirations," Schaeffer said.
Clara '14, who is currently preparing to take the SAT, seemed to embody Schaeffer's concerns.
"If you fail the test you are going to die unhappy and without fulfilling your dreams,"  she said.