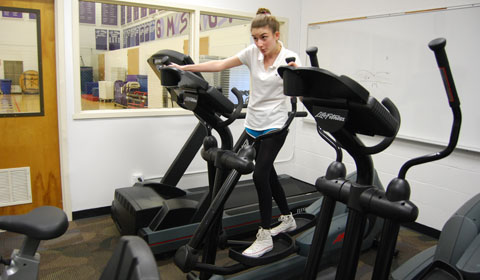 Ever since the volleyball season ended in mid October, I have been missing my weekly physical activity. I've been feeling lazier and less focused, so I made a promise to myself that I would use the lovely workout room in the Evelyn and Lee Combs Athletic Center.     I got one of my friends on board, and we've been training twice every week.
At first, I was surprised by how many girls take advantage of Marlborough's fitness facilities, because in 7th Grade, when we covered how to use the equipment in Physical Education, I never imagined myself actually utilizing anything. However, I have to say that without those introductions, I would have absolutely no idea how to use the majority of the machines, especially those in the weight room, including leg presses and leg extension/ leg curl machines, which look like intimidating torture devices.
    If you do choose to take my advice and get in better shape, here are some helpful tips:
1) Bring food! Unfortunately, Café M closes promptly at 3p.m. everyday and the vending machines are often unstocked or out of order. My personal favorite snacks are Tiger Milk bars, because they are full of protein but taste like chocolate.
2) Don't forget your Gatorade or electrolyte water. You could even try good old tap water, if people still drink that stuff.
3) Make a playlist! Add the songs that pump you up the most, and make you want to dance! And then focus that energy into ab work. Plus, you can use your handy iPhone 5 to Snapchat gross, sweaty pictures to your friends, giving them some good blackmail material to work with.
4) Grab a friend, because even though working out alone can allow for more concentration, it's no fun to have intermittent dance parties by yourself.
    Making time for my workouts has definitely cut into some much-needed homework time, but it has also improved my mood and made me healthier. If I didn't take a few hours out of my week to stay in shape during the off season, I don't doubt that I'd become a lazy slug watching endless hours of Beverly Hills Nannies.     Anyway, who doesn't want to rock out to Taylor Swifts "I Knew You Were Trouble" while doing crunches?