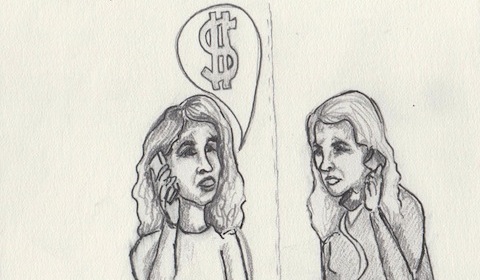 Each year, starting in October, the Development Office sets up a Phone-a-thon during which parent volunteers call assigned families asking for donations for the Marlborough Annual Fund to cover the gap between tuition ($32,485) and how much a Marlborough education truly costs ($39,576). Families are mostly asked to call parents whose daughters are in the same grade, attended primary school or participate in extracurriculars with their daughters.
The Admissions Office makes it clear to incoming parents from the beginning of their relationship with Marlborough that all families are expected to make contributions beyond tuition to the extent that they are able, and The UltraViolet understands the need for fundraising to cover the true cost of the stellar education we are all receiving. However, we at The UltraViolet believe that when parents are assigned to ask parents whose daughters regularly interact with their own to donate money to the School, it intrudes on a family's economic privacy and could potentially cause awkwardness between both girls and parents. The Development Office does honor volunteer requests to skip certain parents on their call lists as well as parent requests to be called by Development Office employees instead of by parents. However, those are exceptions, not the rule, and some parents are not aware they are allowed to make these requests. Furthermore, parents who call others for donations should absolutely not be sharing with their daughters the details of these conversations and any potential discomfort experienced when talking to families who cannot or will not donate.
Although the Development Office stresses participation over dollar amounts, which resulted in 99% parent participation in the 2011-2012 school year, some families simply do not want to donate, especially if they donated a lot last year and are taking this year off, or if they feel the tuition is enough and don't think more money needs to go to the School. While how much a family chooses to give to the School may reflect their philanthropic inclinations rather than their bank account balance, volunteers perceive an income difference between families who donate $100 and those who donate $1,000. The volunteers can also see how much families have donated in past years and are given specific amounts to suggest parents donate based on those numbers. The social pressure to donate causes parents to feel embarrassed if they are not financially capable of giving, which creates an unpleasant situation when volunteers later come into contact with their assigned parents at class parties and events.
When parents learn the specifics about each other's donations to the School, the information could eventually trickle down to their daughters. It seems that some girls do find out what their parents are up to, even though the entire process is supposed to be confidential. We encourage parents who volunteer to exercise more tact; a mother who feels uncomfortable soliciting funds from a family she knows is going through financial difficulties exacerbates the social problem tenfold by letting her daughter — and therefore all of her daughter's friends — in on the situation. The UltraViolet condemns parents who share information about the giving history of other families with their daughters.
We suggest that, as a policy, parent volunteers should be assigned to call families whose daughters aren't in the same grade, on the same team or in the same extracurricular as their own daughter in order to minimize the social discomfort created between families already familiar with each other. If the volunteers don't personally know their assigned families, they won't feel as uncomfortable asking the parents for money, and there is less of a chance they'll see them at an event or party.