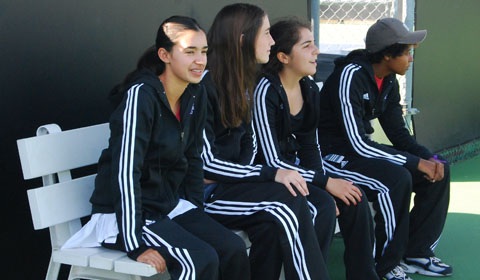 In response to feedback from student athletes, the Athletics Department decided over the summer to incorporate into the sports Uniform new $83 Adidas warm-up suits that can be used across all sports and will be expected to last somewhere between two and four years, depending on the response the Department receives about their durability.
Girls have been asked to purchase warm-up suits for themselves, but for those on financial aid, the same percentage covered for tuition is covered for the suit.
Previously, the Department issued all parts of the Uniform to athletes, including warm-up suits, and none of the athletes had to pay for any of it. Student athletes were then given matching outfits, including black, polyester sweatpants and a warm-up jacket, at the start of a sport's season which were collected at the end. Team jerseys will still be issued and paid for by the School and rotate between athletes from year to year.
Athletics Assistant Shaina Zaidi e-mailed all of the fall sport athletes on Aug. 31, announcing that buying travel suits would be mandatory, including a link to an order page where girls could order the warm-up suits and other necessary clothes needed for their sport, such as spandex for volleyball or skirts for tennis. However, some students did not feel it was fair for the Department to compel all athletes to buy a warm-up suit.
"It's kind of annoying that it is also mandatory for seniors, especially if they, like me, only play one sport, and will only be using it for a few months," Varsity Volleyball player Mary Rielly '13 said.
Zaidi later confirmed this policy was revised in response to feedback from students and said the suits are now just strongly suggested. Despite the fact that a few coaches told their teams that buying the suits was required, at least a few girls from each team didn't get their order in on time or ultimately chose not to get a warm-up suit. This lack of consistency annoyed a few athletes who had been under the impression that paying for the new suits was mandatory.
"If I had known that [the Athletics Department] couldn't force the athletes to buy them, I would not have ordered one," JV Tennis player Margaret Combs '15 said.
According to Zaidi, in the past girls complained about feeling uncomfortable wearing a Uniform that other
athletes had worn before them, and many athletes asked to wear their own jackets and sweatpants. However, the Department wants girls to wear the same warm-up clothes during all games, especially away games.
"When all of the girls walk into a gym or onto a field wearing the same warm-up suits, it creates unity, promotes the team and creates more of an impression," Zaidi said.
The new travel suits are made of a longer-lasting material, designed to absorb liquid. The first shipment came in Oct. 2, and the second order should be in by Oct. 15.
While some girls said they thought matching sweatpantsweren't necessary, others said they thought the change was needed, because the previous Uniforms were too old to be useful.
"The new Uniforms will be nice to have through the rest of my [athletic] career at Marlborough, and I appreciate not needing to get a new warm-up suit each year," Carina Tracy '15 said.