By: Jamie '13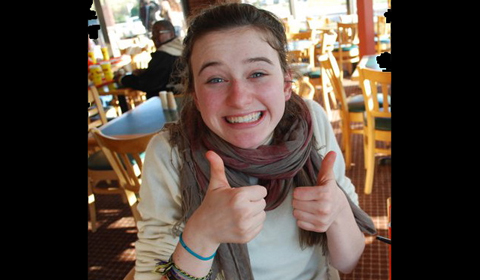 Remember that show Ned's Declassified School Survival Guide on Nickelodeon? For the unenlightened, the show follows one Ned Bigby and his two best friends, Cookie and Moze (Paige from Pretty Little Liars, yo!) as they battle the treacherous halls of middle school and fill up
a composition notebook with tips on how to survive.
That show was wildly unhelpful, because rarely do I find myself facing moving lunch meat (thanks Café M!) or dealing with bullies who give me atomic wedgies by Stork Fountain, but it did inspire me to put together some of my own tips… I now present to you Jamie's Declassified Marlborough Survival Guide (results may vary).
Trail mix. "Trail mix?" you might ask. Yes. Trail mix. Sometimes School feels like a 20-mile uphill trek in the blazing sun. For those days and, frankly, all other days, I suggest trail mix. Last year, I developed an unhealthy habit of raiding our pantry and creating elaborate mixes of peanuts, white chocolate chips, raisins and pretzel M&Ms instead of learning the causes of the French Revolution, but I assure you the sugar high and adventurous hiking feeling it gave me is the primary reason I survived AP Euro.
Don't waste precious moments of slumber getting ready in the morning. Wear your stylin' polo and boxers to bed so you can roll out five minutes before you have to leave, step into your skirt (bonus points if it's the same one since 7th Grade!) and stumble out the door. Even simpler, wear pants, because the decision of whether to wear sweatpants or tights or leggings or socks is too mentally strenuous first thing in the morning.
I've taken to keeping a can of Pillsbury Vanilla frosting at my desk for some solace on those long nights when colleges ask me who would be on my "dream team." (IDK, MY BFF JILL?!?!?) Don't do this.
Whenever you don't know what to do next on your Modernist poetry paper or you've been studying permutations and combinations for so long you start dreaming in numbers (which actually happened to me before the ISEE), go make tea. Tea solves everything: sickness, sadness, sleepiness, stressedness. (I just invented the word. It's real now!) I recommend keeping a spiffy mug and Twinings Lady Grey Tea bags in your locker for the upcoming sweater weather.
I've left out basic study habits in favor of food, so I guess I'll add: study hard, take notes and maybe throw in some Brussels sprouts along with the frosting. Try new things. Talk to your teachers because they're kind of the bee's knees here. And, honestly, I wouldn't worry too much about anything because the world's going to end in December, right?