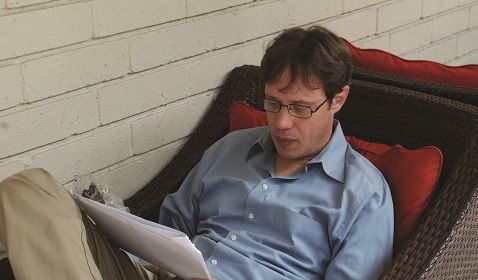 Math Department Head Chris Talone filed a complaint this past spring on behalf of male employees to Head of School Barbara Wagner, pleading to amend the section of the Employee Handbook that says male teachers must wear ties every day but Friday. The male teachers and staff discussed the discomfort they experience throughout the day with Wagner, and as a result she decided before the start of the 2012-2013 school year to allow male employees to have the option to not wear a tie to School on Wednesdays, in addition to casual Fridays.
Male employees may dress in a polo shirt and jeans on Fridays; however, on Wednesdays they must still dress in professional attire with a button-down shirt. Human Resources Manager Derek Poirier played a significant role in the policy change, gathering feedback from the male employees at Marlborough to articulate to Wagner and later drafting and rewriting the relevant section of the Employee Handbook.
All of the male faculty members interviewed for this article complained about ties being "uncomfortable" and "hot." English instructor Chris Brinsley said that ties feel uncomfortable because they restrict his movement.
"I have neck problems, so anytime there is anything around my neck it tends to stiffen up, which puts pressure on my head, and when that happens, I get a headache," Brinsley said. Not all male employees necessarily experience this level of pain when having to wear a tie, but many said they still feel restricted throughout the day. Talone said that ties are very bothersome and get in the way when he is trying to help students.
History instructor Tom Millar said he had to wear ties as part of his school uniform from 1st Grade through 12th Grade, so continuing to do so doesn't really bother him.
According to Talone, administrators said they chose to keep the ties in the dress code because they want employees to look professional. Science instructor Andrew Witman agreed that in the past he has been treated with more respect when he wears a tie.
Witman also said that he feels silly complaining when Marlborough is such a nice place to work and dress code requirements have improved considerably over the past fifty years; classrooms are now air-conditioned and men are no longer required to wear a full suit.
A number of male teachers, however, said 21st century dress standards should be even further relaxed so as to eliminate the tie entirely.
"What is the purpose of a tie?" Talone asked. "I'm sure it served some purpose like back in the 1800s or something, but right now it is this extra piece of fabric you have to buy, and it hangs around your neck to choke you."