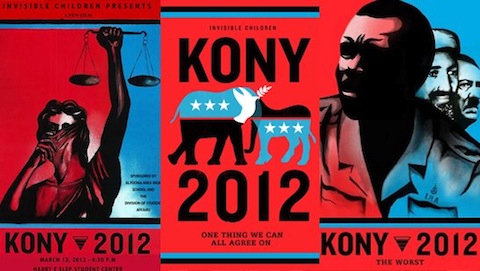 By Lovinia '13
Unless you've been living under a rock or don't have a Facebook, you've probably heard about KONY 2012, a movement started by the non- profit Invisible Children. The goal? Arrest Joseph Kony: a war criminal who has been terrorizing Central Africa for over two decades.
Despite the huge amount of criticism Invisible Children has received, we at Marlborough Amnesty are still committed to this cause. At Marlborough, KONY 2012 isn't just about arresting a warlord; it's about raising awareness about our international community and advocating for people on the other side of the world whose voices aren't always heard.
This Friday, April 20th Marlborough Amnesty will be doing our part to help the KONY 2012 movement and we want the ENTIRE SCHOOL to get involved. Here's what you can do:
1.     Watch the VIDEOS! Watch KONY 2012: Part I and KONY 2012: Part II to learn about the  cause. We will also be showing KONY 2012: Part II in history and social sciences instructor John "Doc" Langdon's room on Friday at lunch. Also we will have pancakes J
2.     GET EDUCATED! I know we are busy girls, but reading articles online about different causes and human rights injustices is a great way to learn about the world around us.
3.     COME TO MARLBOROUGH AMNESTY'S COVER THE NIGHT (DAY) EVENT!!!! We will be making a banner to hang in front of the School as well as a ton of posters and balloons to put up and hang outside.  We will then go to Larchmont and put up posters, draw on sidewalks and hand out fliers encouraging people to get involved in the global community. We also have posters for you guys to use when you…
4.     BECOME A NINJA! Seriously!!  Get a group of friends and put up posters, stickers and fliers around Los Angeles starting at sundown, to advocate for the arrest of Joseph Kony and for social justice in general.
This movement is so much more than KONY 2012; it is the beginning of an era when the people can decide what we want our world to look like. The first step to global responsibility is awareness. I think it's really cool that people are starting to take responsibility for the world they live in. So get involved. I know it's hard to believe, but you do have a voice, and you can do something. (Visit www.change.org to sign petitions!)
If you have any questions or you want to get involved, talk to Lauren '12 or myself,  Lovinia '13 (Lovinia Summer on Facebook). We are super passionate and really easy to talk to!