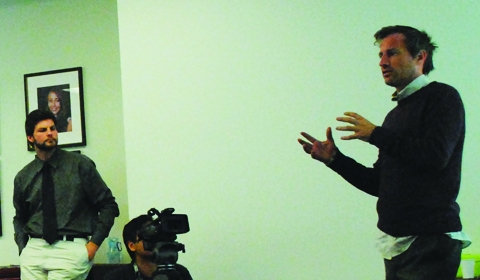 "We basically just went out to dinner, hung out, played charades, did some cannonballs in his pool, and I got him to come to Marlbor­ough," Visual Arts Instructor Josh Deu said, explaining how he convinced Oscar-nominated director Spike Jonze to come to campus.
Jonze spoke to Marlbor­ough film students and Vi­sual Arts instructors on Nov. 16 in the Collins Room and screened his documentary, Tell Them Anything You Want: A Portrait of Maurice Sendak. In 2009, Jonze released his film Where the Wild Things Are, based on the children's book by Sendak.
"Listening to him was like a window into the creative mind of a modern-day ge­nius," Julia '12 said.
Deu first met Jonze in 2007, after an Arcade Fire concert. Deu, one of the band's founding members, again crossed paths with Jonze when the director later created the short film Scenes from the Suburbs, featuring music by Arcade Fire.
But bringing Jonze to Marlborough is just one of the things Deu is doing to expand and improve film offerings at the school this year. This semester's Intermediate Film class allows Upper School students to not only create their own movies but also study various directors and techniques.
"So many people wanted the class; I just waited until I got the con­sensus that people were waiting for it," Deu said. "It kind of had to hap­pen."
When planning the class, Deu spoke with USC School of Cinematic Arts instructor Beth Block about film class curricula.
"It's very different than teaching a class on the Holy Roman Empire," Deu said. "We're so deep-fried in the media, that in a way, it provides space for deconstructing something we take for granted."
Many students have said they are thrilled to build on the knowledge and expertise they developed in Deu's introductory classes.
"I'm excited that the class is much more than just creating your own films…you get to learn about other directors and how they worked, too," Sarah '12 said.
The 15 girls in the film class be­gan by creating a silent film, and then moved on to recreating a scene from one of Alfred Hitchcock's films, shot for shot, in partners.
While the project has, for the most part, been successful so far, the film class still faces some chal­lenges—mainly working with all the technology.
"It's kind of like how we always do things," Deu said. "You just jump right in the deep end and swim."