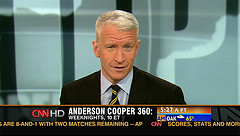 "I've always giggled like a 13 year-old girl at a Justin Bieber meet and greet," CNN anchor Anderson Cooper said, according to Entertainment Weekly. "There's nothing I can do about it, but I've never not been able to stop."
On Wednesday, Aug. 18, during the nightly "Ridiculist" segment on his CNN show "Anderson Cooper 360," Cooper revealed his inner child when he broke out into a fit of giggles over bathroom-related humor. A video clip of the outburst soon went viral and currently has over 480,000 views on YouTube.
In the segment, Cooper reported that French actor Gerard Depardieu was accused of urinating on the floor of an airplane. When discussing this episode, Cooper could hardly contain himself and at one point, he diverted from his script, spitting out puns such as, "They saw an actual thespian actually thes-peeing" and, "They should thank their lucky stars it wasn't Depar-two".
Cooper quickly lost all self-control. On-air, he even warned his staff to stop chuckling for the laughter was becoming contagious. Towards the end of the clip of the show that went viral, Cooper addressed his audience, apologizing for his lack of professionalism.
"This has never actually happened to me," Cooper said. "You see this on YouTube and you don't think it will actually happen to you."
So apprently even experienced, adept journalists enjoy a good laugh. In all, it was refreshing to see Cooper crack a smile and expose his playful disposition.