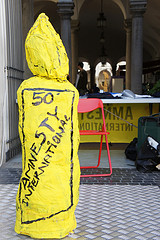 Marlborough's Amnesty International Club, which supports a global movement to "campaign to end grave abuses of human rights," hosted a lecture on Tuesday, Apr. 26th in the Collins Room. Kathy Eldon, President and Founder of the Creative Visions Foundation (CVF), spoke and addressed the use of media and the arts to create positive change in the world.
Eldon commenced the lecture with a CNN video profiling her son, Dan Eldon, an artist and Reuters photographer, who was killed in July 1993 by an angry mob in Mogadishu, Somalia.
"[Dan's] legacy continues to inspire me, and I hope his work and this lecture will inspire Marlborough students to take action, to take leadership, and to make sure that their voices are heard," Eldon said.
The Creative Visions Foundation (CVF) is dedicated to supporting "creative activists" like Dan to help transform bold ideas into action and social change. Since the Foundation's inception, CVF has helped accelerate more than 80 projects on four continents, providing mentoring, grant-making and assistance.
TOMS Shoes, a footwear company that donates a pair of shoes for every pair purchased, launched their new 2011 Spring Collection in honor of Dan. Also, Invisible Children Inc., which seeks to end the conflict in Uganda, is an organization initially inspired by the life of Dan. Marlborough's Amnesty International Club is currently involved with Invisible Children Inc., campaigning and fundraising to support the organization's mission.
Katherine '12, a member of the Amnesty club, elucidated the importance of the media and the relevancy of Eldon's Foundation not only to the Club's mission but also to political and social trends of the 21st century.
"Using social media like Twitter and Facebook to raise awareness of global issues has become a central element to organizing people," Katherine said. "For example, just in these past couple of months, we've seen Egyptians utilize technology to their advantage and to gain support of a political and also a social revolution."
Overall, the lecture was a great success. Not only was Eldon's lecture heartfelt, empowering and inspiring but it also provided guidance for Amnesty's future campaigns.
According to Amnesty club member, Lovinia '13, "[Eldon's] presentation gave the Club a better understanding as to how we can inspire people not just through words and actions but also by creativity and imagination."