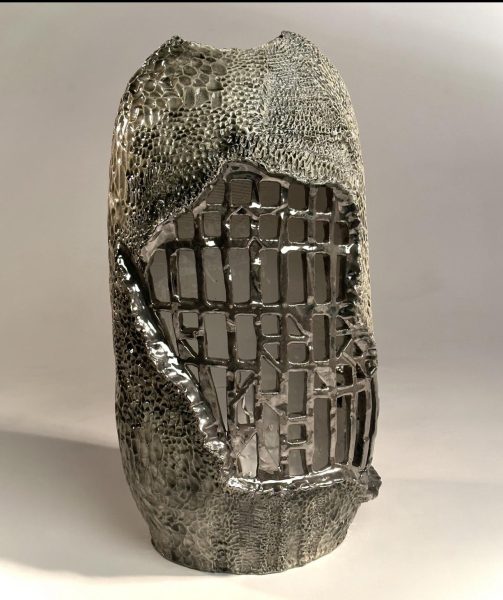 In 2018, Marlborough student Ella '24 started her ceramics journey, which led to her continued participation in multiple advanced ceramics courses leading up to her senior year. 
With the guidance and inspiration from her older sister, Ella decided to take an introductory ceramics course in 7th grade. The class provided foundational skills while focusing on sculptural work with cardboard rather than hands-on clay work. For her 8th-grade year, the COVID-19 pandemic interrupted Ella's studies and influenced her decision to remove the ceramics course from her schedule because it was online. 
Ella officially rejoined ceramics in 10th grade. She was motivated to replace her free period with Advanced Ceramics 3 and 4 and was able to convince Visual Arts Instructor Fatima Hoang to let her join the class. 
Throughout her sophomore year, Ella learned how to use the ceramics wheel successfully, began sculptural work with clay and constantly produced pieces. 
"I was really familiar with the space since I was in the previous lower classes, and I kept coming back and really loved the process of making the pieces and just being in the room," Ella said. 
During free periods, flex times, lunch periods, the ceramics period and after school, Ella was always in the ceramics studio working on a piece. With the time she dedicated to ceramics that year, Ella made 10 to 15 separate pieces. This hard work led to her eligibility for AP ceramics in her junior year. 
After getting approval to take AP ceramics, she consolidated her work under one cohesive theme, architecture and Art Deco, with the ultimate goal of submitting 10 to 15 pieces and descriptions for the AP assessment. 
"I mainly focused on big architectural pieces of that time, like the Chrysler Building, which was something I took a lot of inspiration from," Ella said.
In addition to her large hand-sculpted pieces from 11th grade, she also submitted work from her sophomore year for her AP portfolio. 
For senior year, Ella decided to continue challenging her creativity and skill by applying for the Ceramics Capstone. She was accepted into the program after presenting to Visual Arts Department Head Chelsea Dean and Director of Studies Jonathon Allen. Ella is the only 2024 Marlborough senior partaking in this capstone this year. 
For the rest of the year, Ella will be working toward the final project, which requires creating a space for her work that will appear in a gallery at the end of the school year. Ella has creative freedom over the theme for her capstone project and is choosing to focus on creating a tree branch and tree stump stemming from her love for the sculptural and structural elements of ceramics. 
"With all of my pieces, especially last year, I was really into the scale and making it as large or as tall as possible," Ella said. 
She plans to incorporate this thematic vision as she explores new mediums, specifically bronze and other metals, while still maintaining the structural concepts she has been learning and mastering for the past few years.